Planning a wedding can be complicated at the best of times, but it can be especially daunting if you want to get married abroad, even if you're trying to keep things simple.
If you are an international couple planning to hold your marriage in Denmark, we are here to help you to understand the process from start to finish, and make sure you're comfortable with everything.
This helpful guide to marriage in Denmark will outline in simple terms how we work, from the first contact right through to when you leave Denmark with your wedding certificates, all ready to begin your new life together as a married couple.
Step 1. Congratulations, you've made the right start!
As you've found this guide to planning your marriage in Denmark, you've probably already learned why Denmark is a good choice for international marriage in terms of its central location and simplified bureaucratic procedures.
If you're wondering how to start the process, this is also usually the point at which couples decide what type of experience they want their marriage in Denmark to be.
First of all, this means deciding if you'd like to use a marriage agency to help you or want to take your chances with applying to the Agency of Family Law (AFL) on your own.
If you're not sure whether you should use Getting Married in Denmark or are still trying to weigh up the pros and cons of using an agency versus handing your own marriage application, a good place to start is our article on why we think you should consider using our services, and the benefits of doing so.
When you're ready to make the first move and get started, simply contact us and we can go from there.
When you contact us, we'll ask a few specific questions to help us to understand the circumstances surrounding your plans for marriage in Denmark, and we'll also provide you with a free copy of our preliminary list of the required documents you'll need too.
You can ask any questions you might have about anything that might be confusing you, and we'll be happy to help.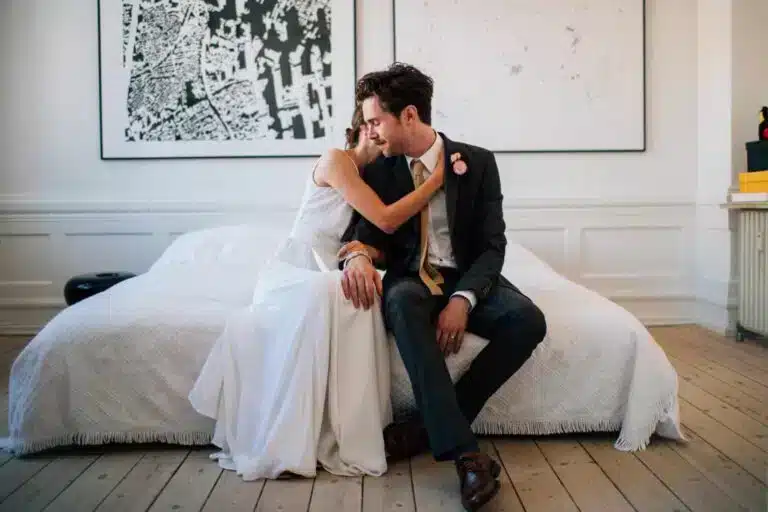 Step 2. Receive our preliminary documents list.
Once we've got a basic idea of your personal circumstances (such as your nationality and where you live) we'll send you a free copy of our list of the preliminary required documentation you'll need to provide to apply for permission to have your marriage in Denmark.
We'll also provide some supporting information on how we work and how we can help you to arrange your documents properly for submission to the Agency of Family Law.
When you have all of the information you need, you can make an informed decision about whether or not you want to hold your marriage in Denmark, and whether or not you'd like our support with this.
For many people, you won't need any additional documents other than those mentioned on the preliminary list; but once we've begun to explore your case in more detail, we may find that in some cases that there will be additional pieces of evidence you might need to supply, or steps you might need to take to ensure a successful application.
This is something that we specialise in and can help with via our service.
Step 3. Decide which service is right for you.
We offer two types of services to make sure that every couple can choose the one that is right for them.
Our "Essential" service gives you the benefit of our guidance on collecting your documentation, which we will then prepare in the proper AFL submission format as well as offering guidance on your application and booking the ceremony for your marriage in Denmark itself.
However, our "Essential" service leaves the process of submitting your application and dealing with the Agency of Family Law and the town hall you choose for your ceremony up to you; we don't communicate with them on your behalf.
This service is perfect for couples who want to keep costs down, and that feel confident in managing their own application.
That said, our "Essential" service isn't usually suitable for couples who wish to arrange their marriage in Denmark quickly, as mistakes can lead to delays.
It probably won't be the best option for couples who have complex document requirements or other potential challenges within their applications either.
Our "Complete" service is designed for couples who want the whole process of applying for permission for their marriage in Denmark handled on their behalf.
We'll advise you on the documents required to get married in Denmark, arrange and prepare them, and submit your application to the Agency of Family Law for you.
We'll also handle all communications from the AFL about your application, right up until the point that your application is approved.
Once we receive approval for your marriage in Denmark, we then make the booking at the town hall you have chosen to have your ceremony in.
For both services, we offer guidance with your travel arrangements in Denmark and offer any further guidance you might need as you continue to prepare for your wedding. We also work with a number of super-skilled yet affordable wedding vendors that offer up to 20% discount on their services, exclusively to couples who choose one of our paid services.
Step 4. Receive our fully detailed document list.
Next, we'll provide our comprehensive documentation list, covering all of the official documents you will need to provide, as well as some other non-official documents you may require to ensure approval to hold your marriage in Denmark.
We will also outline how you should prepare and send the documents you need to complete and sign as part of your marriage application, guiding you through the whole process and of course, checking your documents before submission to avoid any errors or problems.
If we do spot anything that might cause an issue or delay your application for marriage in Denmark, we'll work through it with you and add any supporting documentation that will help to smooth things along.
As you'd expect, every couple and situation is different, and so the documents each couple needs is different too.
We've helped thousands of couples to make successful applications to get married in Denmark, and we have the experience and knowledge to ensure we'll quickly spot any issues or errors that could affect your application, and correct them before they become a problem.
As well as the detailed documentation list, we'll also provide a full list of the town halls where the ceremony for your marriage in Denmark can be held, along with more information about each of them and how to choose the right one for you.
For instance, you might be looking for a town hall that conducts wedding ceremonies on a certain day, or one that allows you to present your documents on the same day as the wedding; or you might simply want to choose the town hall with the earliest available date for your marriage.
We'll listen to your needs and offer our informed advice on the best option.
Step 5. Gather and review your documents.
When you've got as far as signed up to our service and have received our detailed documentation list, it is time to gather the required documentation.
Around 95% of the time, we'll find something – even if it is only something small –that will need to be corrected or amended to ensure it does not delay the application.
Sometimes we'll find multiple errors, and this may require a reasonable amount of e-mailing with you to make sure we get it right the first time when it comes to submitting your documents to the AFL.
This can take time; but it is still far faster than submitting documents with errors and having your application delayed!
This is because if the Agency of Family Law needs to ask for further information or clarification, they will request the information they need and put your application to the back of the queue, handling first-time applications that come in later on before returning to yours.
This can mean that your application is delayed considerably, and so we work really hard to ensure that your application documents for your marriage in Denmark are right the first time.
Step 6. Make your application.
So we've received and prepared your documents and checked that everything is present and correct. Now it is time to make the application itself.
If you're using our Complete Service, we'll do this for you; if you're using our Essential Service, you'll submit your own application with our guidance. Submitting your application correctly is a crucial stage of the process, and it is important to handle it carefully.
If you want to avoid delays, we strongly advise using our Complete Service, as even very well-informed couples commonly have problems navigating the submission requirements, even though Denmark's overall wedding application process is simpler than that of most other countries.
Sometimes however carefully we guide couples who use our essential service, mistakes creep in during the online application process, which in turn, leads to delays.
Our Complete Service takes the stress out of your hands, leaving you free to plan the fun part of your wedding and leaving the hard work up to us.
When we complete your application on your behalf, we receive two receipts; one to confirm that the application was received successfully, and the other to confirm that the relevant fee has been paid.
You will also receive a receipt from the Agency of Family Law.
Step 7. Receive approval.
The Agency of Family Law is obliged to respond to all new applications for marriage in Denmark within five working days.
If your application was completed correctly, this is usually to tell you that your application has been approved, but it may occasionally be to ask for more information.
Sometimes, no matter how thorough we've worked on getting your documents into perfect order, an AFL caseworker may decide they need further information.
If such issues do arise, we work hard to resolve them as quickly as possible and get your application back on track.
For couples who have chosen our Essential Service, the AFL will inform you directly (rather than us on your behalf) when you've received approval for your marriage in Denmark.
Once this has happened you just need to let us know, and we'll explain how to contact the town hall you have chosen as the venue for your wedding to book the ceremony.
Step 8. Book ceremony for your marriage in Denmark.
When your application has been approved, it is time to book your ceremony!
The timescales for this can vary depending on which town hall you choose, but it is usually only a couple of days to a week before your date will be confirmed.
Woohoo! Your marriage in Denmark is really happening!
Step 9. Plan for your big day.
You have approval for your marriage in Denmark and your ceremony is booked. The next step is to book your accommodation and travel arrangements.
We can help with our own personal recommendations on where to stay and how to plan your journey to Denmark, and we also have contacts with many great wedding planners and service vendors all over Denmark to help to ensure your wedding is exactly how you want it.
We've even got access to exclusive offers and discounts from specially selected wedding photographers and other professionals.
If you have any questions about the logistics of planning your marriage in Denmark or those special finishing touches for the big day, just ask; this is one of our favourite parts of the job!
Step 10. At long last! Attend your marriage ceremony in Denmark.
Once you've arrived in Denmark for your wedding ceremony, you'll need to present your documents. Many town halls require submission the day before the wedding, but others ask for them on the day.
Generally, you'll need to present your passport, any visa or residency permit you used to travel, and occasionally, evidence of your journey in to and out of Denmark (such as your flight tickets) too.
The ceremony itself is quite fast, and usually lasts under ten minutes! The registrar will say a few words (in either English, German, or Danish) depending on which language you have requested the ceremony to be held in. Then you and your partner will sign the required documents, along with your witnesses.
If you don't have witnesses, this is not a problem; most town halls can provide witnesses and don't charge for this.
Some town halls may have certain days when witnesses aren't available, but this is something we'll discuss with you during the planning stage to avoid any last-minute problems!
You can wear whatever you want for your wedding; you don't have to dress up, but you can if you want to.
You can say short vows and exchange rings if you wish, but this is up to you, and the ceremony for your marriage in Denmark can be incredibly simple if you prefer.
After Your Wedding: Your wedding certificate
Immediately after your wedding ceremony, you and your partner will be given two copies of your International Wedding Certificate at no extra charge.
You can take these home with you, but if you've chosen our Apostille Service to legalise your wedding certificates for use worldwide, you will need to leave one or both copies of this with us.
If you are getting married in Copenhagen, we have a drop-off point just a short walk from Copenhagen City Hall, where you can leave your wedding certificates safely for us to collect.
If you're getting married in another part of Denmark or want to send your certificates to us later, you can mail them to us instead.
Once we've legalised your certificates, we'll return them to you via tracked UPS postage. The whole process takes just 7-10 days from the time we receive your certificates.
If you ever are in need of a new marriage certificate you can always contact the town hall you got married in and request new certificates free of charge. If you need your certificate to be legalised too , you can contact us.
Ready to make the first move?
Remember when you asked your partner for that first date? When you asked them to marry you? You already know that the most important part of the process is taking that first leap of faith!
Now is the time to ask the second most important question on your journey to the town hall – to us this time – and contact us about planning your marriage in Denmark, and we'll be more than happy to help.
We'll send you our free preliminary documentation list, and take care of you from the first moment you contact us right through to your wedding day and beyond.
Getting Married in Denmark is here to make arranging your marriage in Denmark simple, stress-free and quick, so call or email now without obligation for a friendly, helpful response, and take the first step in your journey towards married life today!
Want to know exactly what documents you and your partner need to get married in Denmark?