In this article, we try to cover everything there is to know about the Danish international marriage certificate.
Perhaps your wedding is soon and you're just too excited to wait for the day and curious to see how your wedding certificate will look.
Maybe you're getting married quickly because of administration reasons and you're going to need to know what information is stated on the wedding certificate. 
We've tried to give you as much information as possible right here about The Danish Wedding Certificate so we hope that you will find it useful. 
Read here if you wish to know more about the Required Documents to Get married in Denmark.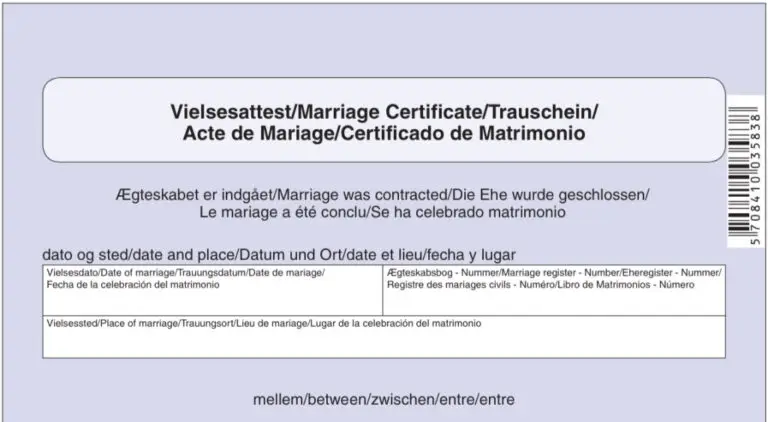 FAQs about the Danish International Marriage Certificate
First we will answer some of the most asked questions we get from customers here her at GMiD, please see below. 
If you have any additional questions about the Danish international marriage certificate, please contact us and we will be happy to answer. 
What Does a Danish International Marriage Certificate Look Like?
In the picture below we have provided an empty copy of the Danish international marriage certificate. 
As seen on the copy all information is written in five languages, Danish, English, German, French, and Spanish.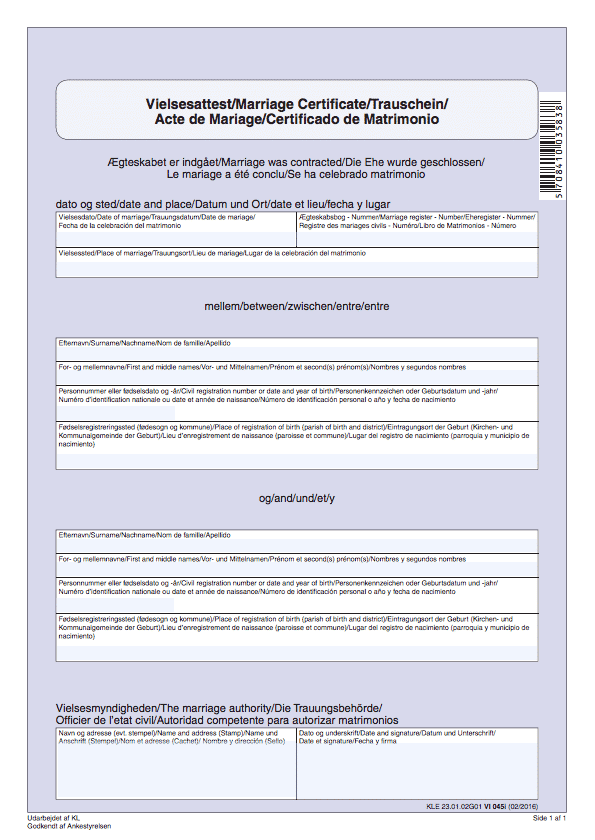 How to Obtain a New Wedding Certificate?
The process of requesting the certificate is not difficult and the town halls are usually happy to post them too but there are just a few points to take in to consideration. 
The first and most surprising to some of you might be, getting the town hall right. 
Please don't judge, if you're a couple who got married in Denmark, in a place like Copenhagen, then you may be able to easily remember. 
Just imagine, though, a couple who married back in the 80s at a town hall they couldn't even pronounce the name of when they journeye'd over for their wedding day. 
Nevermind 30 years later when trying to retrieve a certificate that's been lost for a decade. 
I've personally spent a lot of time going back and forth with some couples trying to figure out which town hall they might have been married at. What letter did it begin with? 
What landmarks do you remember? It's been quite an adventure and some fun using our detective skills to work out where but we've found it eventually. 
So please don't feel awkward if you can't remember. 
Does Your Danish Marriage Certificate needs Apostille Legalisations?
Next thing to consider once you know exactly which kommune is responsible for your certificate, is, do you need a legalisation?
So you already know that your marriage is legal worldwide but if you're going to use your certificate for administration purposes then it may likely need to be Apostille legalised.
We have written a details article on the subject: What is the Apostille Legalisation and who needs it? But below we have also made a brief explanation.
The Danish Marriage Certificate is a legal document in Denmark but the laws of Denmark are not the same laws of every other country, so legalisations make your wedding certificate document the legal equivalent for the country you reside in.
You might be asking yourselves, do we need to legalise our wedding certificate?
I would say yes. If you're looking for a copy of your wedding certificate now, then it's likely for administration purposes, even if not, it's always good to be prepared. In the early days, it didn't seem as necessary, particularly for other EU countries but it seems that laws are tightening up and many administrative offices around the world are being more cautious with the documents that they accept, so more and more are asking for legalisations.
When offering our legalisation service to our customers, we always advise them to check with the office where they're going to administrate their wedding certificate after their wedding to see exactly what legalisations they need.
The type of legalisation we offer is the Apostille Legalisation Service.
However some countries require additional steps and we highly recommend that you check this so that you can be prepared.
Town halls usually send through normal post that is not tracked but with our legalisation service we send your certificate back to you with tracked UPS service.
You can of course simply contact the town hall and ask them to send you the certificate, that's completely possible but if you want to have a fully legalised document and be sure you receive them safe and well, then I would very much advise our Apostille Legalisation Service.
If you're looking for some help  getting new copies of your Danish Wedding Certificate, or you have any questions at all, let us know, we'd love to help you!