Photo Credit: Mike Sønderby Sørensen
Well, we are here to tell you exactly what these benefits are! 😉 
Let's dive straight in! The main benefits of getting married in Denmark are:
No requirement for your birth certificate

No requirement for a Single Status Certificate / Certificate of No Impediment

You can get married on a tourist Visa 

Short government processing time (5 days – when the application is done correctly, first time)

No need for expensive lawyers

Specialised & Dedicated Marriage Agencies
In this article we will examine these benefits of getting married in Denmark in detail, as well as exploring some of the potential disadvantages of getting married in Denmark. Importantly we will look at how a wedding here could benefit you!
What Documentation is Required to Get Married in Denmark?
Ok, so actually, it might be easier to explain what documentation is NOT required to get married in Denmark, because that is, in fact, the key point here!
The main two documents that can cause the biggest issues for couples are: 
Your Birth Certificates

Official proof that you are not married (also known as Marital Status Certificate, Certificate of No Impediment, Certificate for Capacity to Marry or Single Status Certificate)
Now, in order to get married in Denmark, you do NOT need to provide either your birth certificate, or a single status certificate to get married here.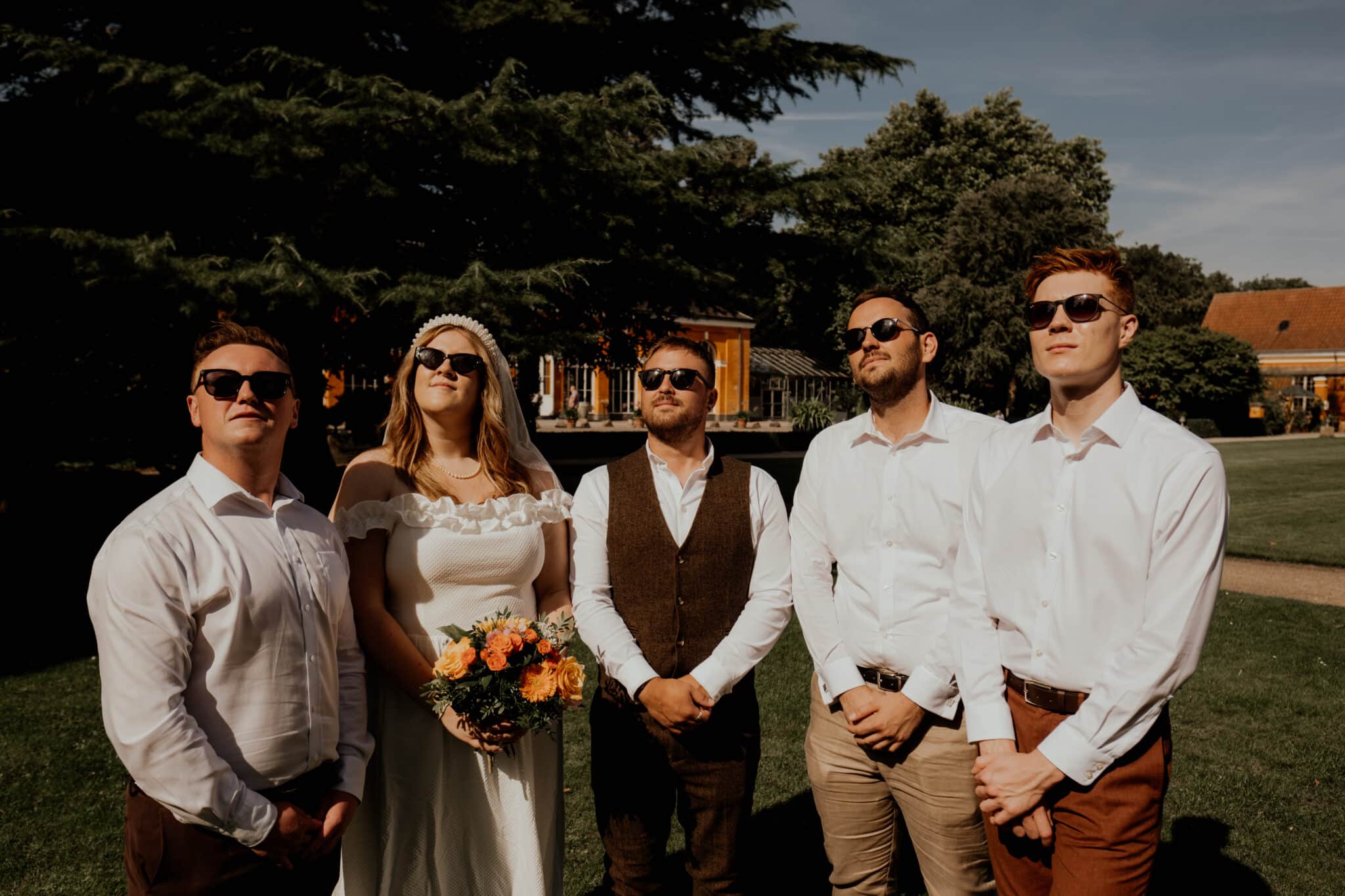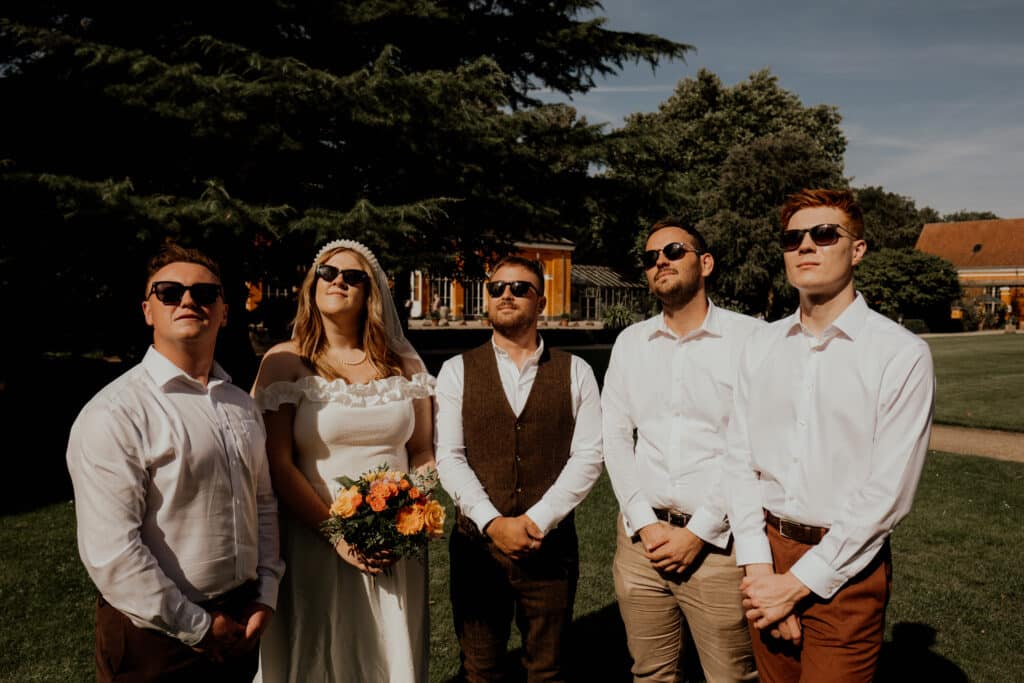 For people who may have lost their birth certificate and it is impossible for them to get a new one, or those who cannot obtain a Certificate of No Impediment, turning to a country like Denmark, where neither of these documents are required, is of HUGE benefit! 
It instantly removes the stress that would come with being told this is something you must provide in order to get married, when these documents are unobtainable for you. 
Further to this, you do not need to apply for a special Visa to get married in Denmark. Nearly all the couples who come here and get married, do so simply on a tourist Visa (in cases where a Visa is required). 
How Long Does the Application Process Take in Denmark?
It is well known that getting married in somewhere like Germany takes an extraordinarily long amount of time if, for example, one or both of you are not German citizens. This is also true for many other countries both inside the EU and outside. 
So when couples want to get married without months and months of bureaucracy, backlogs, paperwork, and long waiting times (which let's face it, that's what we'd all want), they begin to look for alternatives.
This is where Denmark comes into its own. Yes there is bureaucracy involved – of course there is; you have to apply to the Danish government to get married here and their rules are strict. BUT, the Agency of Family Law (AFL for short) is there to protect both you and Denmark, and they are efficient at doing so. 
They are required to respond to all marriage applications within 5 business days. Which means, as long as you get your application right the first time, the process can be very, very quick. 
Do I Need a Lawyer to Get Married in Denmark?
A lawyer is not required, or necessary, for any part of the process when making your application to get married in Denmark. 
Aside from this, lawyers tend to be expensive and may also potentially lack that personal and genuine care that you deserve when organising one of the happiest days of your life! 
This is where wedding agencies shine brightly; offering couples a personal, dedicated, warm and friendly as well as incredibly helpful service – which is exactly what couples deserve when organising their wedding day!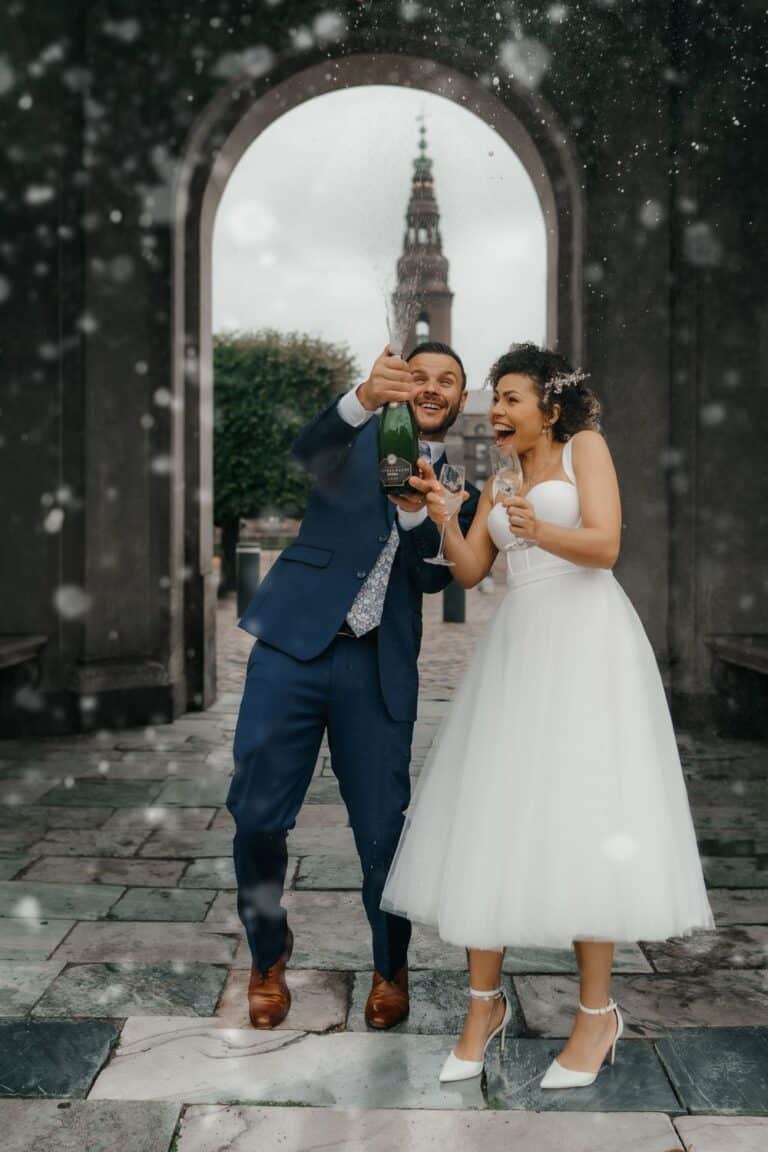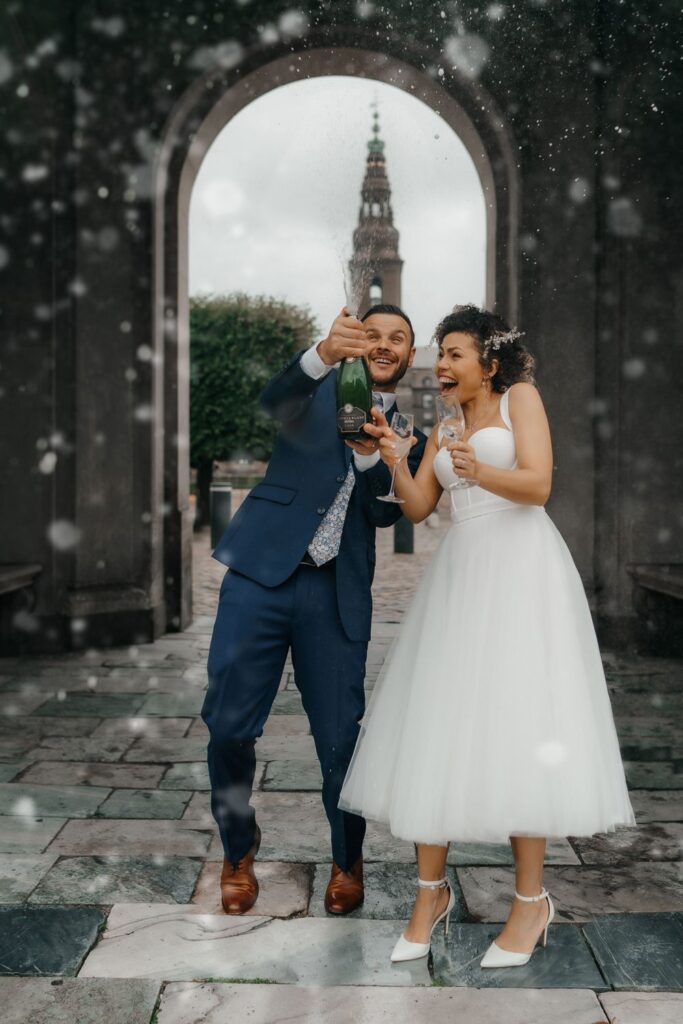 What Benefit is There of Using a Wedding Agency?
The AFL, like most government agencies and departments, have very strict rules. These rules must be followed in order for a marriage application to be approved first time around and within their 5 day response period. 
If these rules are not followed, then this unfortunately, is where huge delays can occur. The AFL is very strict on how documents must be submitted, in what format, and on how clear the information within the images should be provided.
For example, how much and how clearly you have to be able to zoom in on small lettering on a passport or ID card for example is incredibly important.
If you get even the smallest thing wrong, and your application is NOT approved in the first five days, the AFL will ask questions instead.
This will instantly add delays of anywhere from 3 weeks and up to 2 months as your application is then, effectively, put to the bottom of the pile.
If your response to the AFL's first query is not satisfactory, then they will come back to again ask further questions or for additional information. This in turn will further cause a 3 week – 2 month delay.
And it goes on like this until your case is either approved, rejected or closed. 
Below you can see a letter issued by the AFL regarding a request for further information from a couple (*all personal / sensitive information has been redacted).
At the very bottom you can see their advice that their average processing time after this documentation has been uploaded is up to 2 months!
So don't just take our word for it. This letter was sent by the AFL to a couple who contacted us for help as they did not get their application right in the first instance. 
You can see, in the text highlighted in orange, the length of time it can take if you do not get your application right the first time around.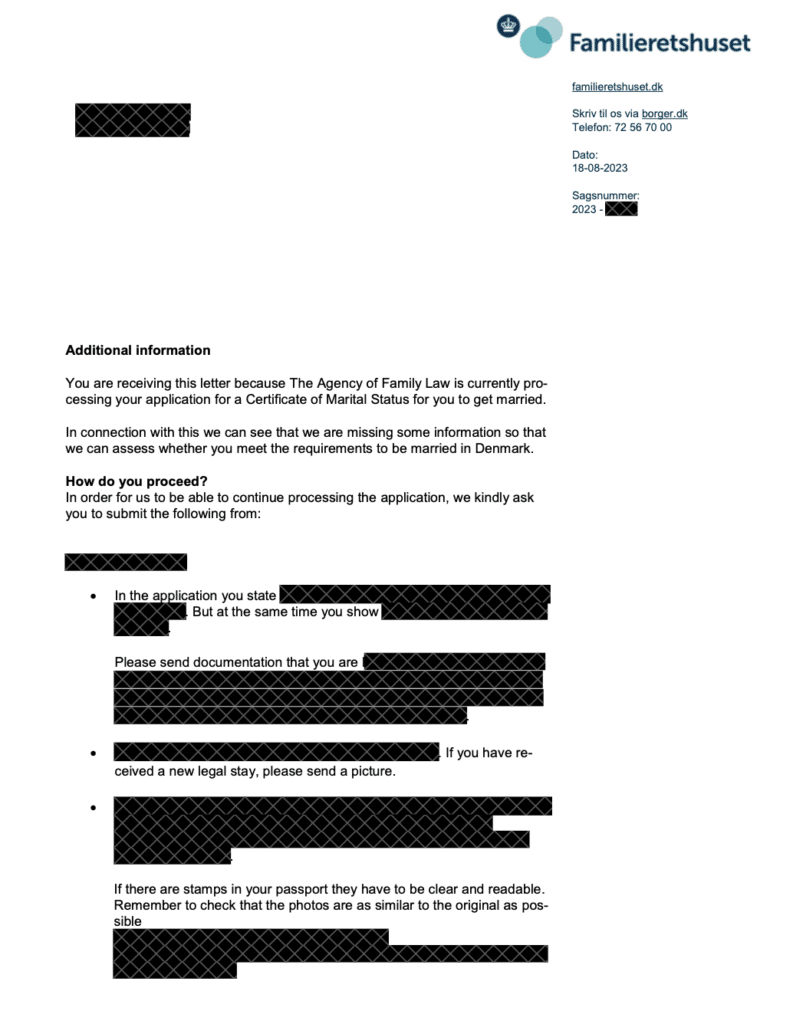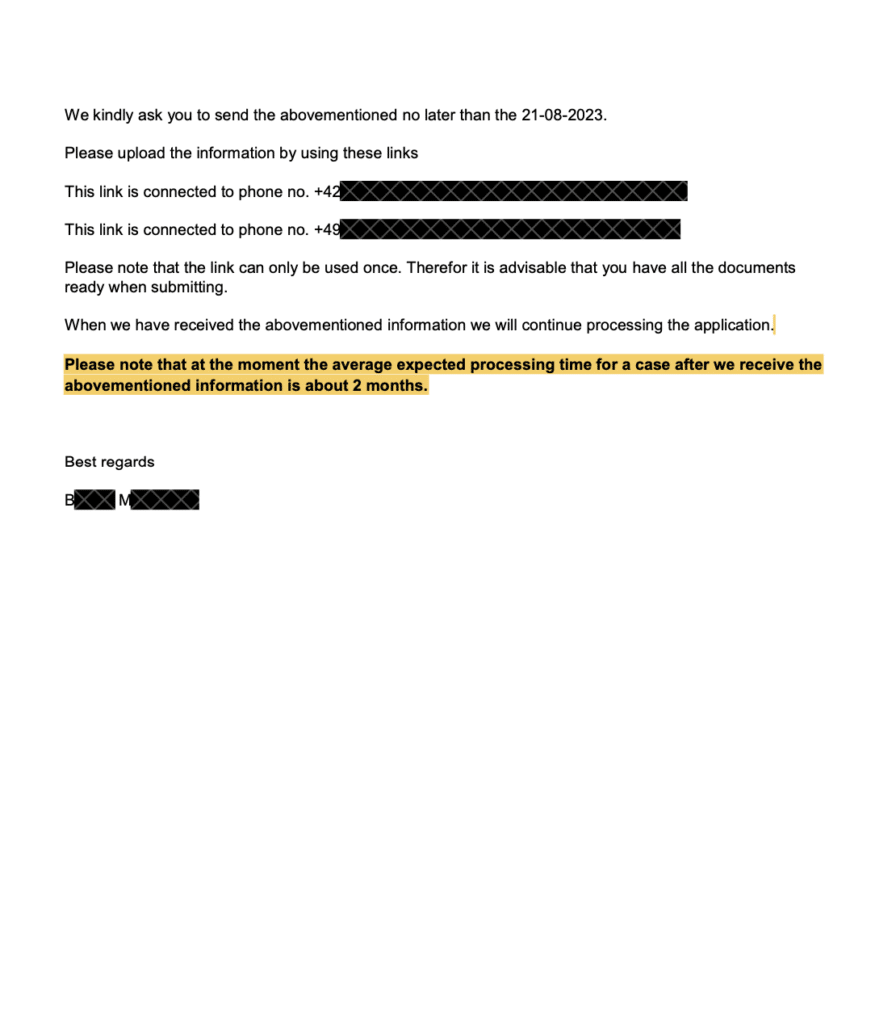 Unusual circumstances, tricky documentation or additional legalisations can add further to the complexity of a case. So using the long standing knowledge and expertise of a trusted wedding agency really can make the process so much smoother and much less stressful in the long term.
There are a small number of trusted wedding agencies based in Denmark, and we know exactly what it is the AFL are asking for, meaning we can help you get your documents, and therefore your application right the first time. 
To add to this, all the help offered by trusted agencies is done with warmth, kindness and empathy.
This means working with a wedding agency can be a HUGE benefit for couples who want to get married in Denmark. 
Are There Any Disadvantages of Getting Married in Denmark?
There aren't any outright disadvantages to getting married in Denmark, but there are a few things that we feel couples might want to be aware of, before they proceed. 
These are:
The availability for a ceremony at the more 'popular' town halls / during busier seasons

Denmark can be expensive

The sun is not always guaranteed to shine
1. Town Hall Availability
Let's first take a look at the availability at the town halls. Every town hall is different. Some conduct weddings every day of the week, some only one or two days. Some of the town halls are extremely conveniently located, which makes them very, very popular. Certain times of the year are much busier than others. 
All these factors can have an impact on how soon after your marriage application is approved, you can get married.
Take Copenhagen City Hall for example, this is one of the more popular choices of town hall for couples.
Currently, at time of writing, Copenhagen City Hall has no availability left during the next 2 months for a standard wedding ceremony there. 
That being said, it is possible to book a ceremony date at City Hall much sooner than this in one of their 'out of hours wedding ceremonies'. These are available for a fee and are often popular with those couples who don't want to wait 2 months for their wedding date.
So while this is not ideal, there is a solution provided!
The point here is that the choice of town hall will have an impact on how quickly you can get married after your application is approved.
Of course the town halls are far busier in the summer and again in the run up to Christmas when most of them close for a week or two!
Choosing a town hall or a time of year that is less popular is a great solution when not wanting to book your wedding date sooner rather than later!
The second potential disadvantage of choosing Denmark? It can be expensive. 
And the reason why? Quite simply the Danes pay very high taxes. And that means in order to make a living, Danes have to charge a little more for their services and in their businesses. 
BUT, while hearing this for the first time might make you wary of choosing Denmark, we are here to assure you that Denmark is, because of this, one of the safest, cleanest and most welcoming countries in the entire world and every single couple who comes here finds it so. 
Countries like Iceland, Sweden and Norway are actually much more expensive Nordic countries to visit and if you are willing to do some research before you travel to Denmark, you will certainly be able to find cheaper alternatives: hotels, restaurants, tourist attractions.
You can totally make Denmark work for you if you spend a little time researching the best places to stay / eat / visit whatever your level of budget! 
Ok, so admittedly there's not much we can do about this! 😉 
Because the winters in Denmark can be so cold, it of course means the spring and summer become a hugely popular time of year for couples to get married. 
As a result, the availability at the town halls is affected, and so thinking outside the box here could be the perfect solution! 
Let's park the idea of the classic summer wedding for now and contemplate a winter wedding for a moment.
We actually can't think of anything more romantic than an autumn or winter wedding. Picture the scene: You are both wrapped up warm, taking a stroll down Nyhavn, the sun is setting, there are fairy lights twinkling in windows and in trees. 
You stop at a cafe for a hot chocolate or Gløgg. You order some Smørrebrod followed a slice of cake to share. The snow is falling and you experience first hand, the Danish art of Hygge.
So, it might be cold but, oh my, what an incredible memory that would be to make! 
As long as you're dressed appropriately, is inclement weather really that bad? Just make sure you check the weather report before you fly! 😉