Can same-sex couples marry in Denmark?
Absolutely! Denmark is a popular destination for same-sex couples who wish to marry. Denmark was the first country in the world to grant recognition to same-sex unions in 1989 which has now been replaced by a new same-sex marriage law.
Today, it is hard to believe that it was once not possible to get married to someone of the same sex.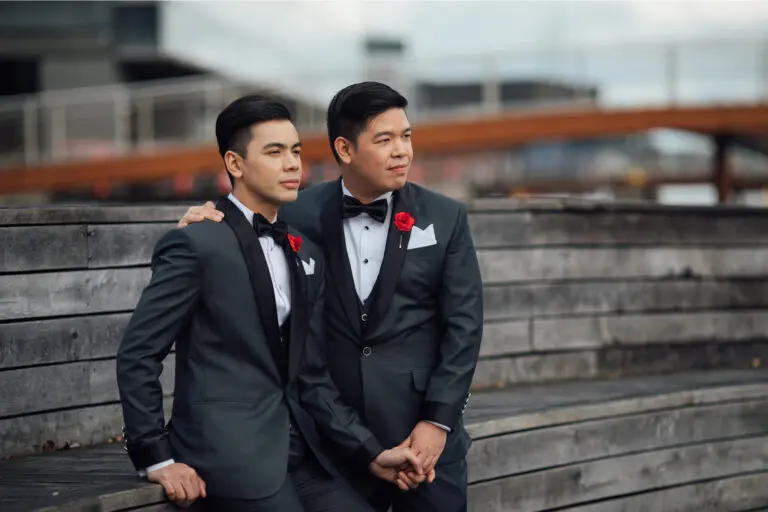 The First Country in the World to Allow Same-Sex Marriage
And of course same sex marriage in Denmark is allowed. 
We still can't imagine that some politicians won't allow others to get married. Luckily that is history in Denmark. 
In 1989 Denmark became the first country in the world to allow equal rights to same sex couples. 
For us it is amazing to be able to help same-sex marriages in Denmark for foreigners, and especially in Copenhagen where it all started. We know that it is something special for our couples to be in the midst of Copenhagens progressive legacy of LGBT rights. 
Even though Denmark was the first country in the world to grant legal recognition of same-sex unions, it wasn't until 2012 that you could get married, surprisingly. 
This means that since 2012 it has been possible to have a gay marriage in Denmark for foreigners.
Gay Marriage in Denmark for Foreigners
Denmark and gay marriage is a perfect match for foreigners. 
Actually, there is no difference between a gay marriage in Denmark for foreigners or any other group of people (Danes, Germans, straight, etc.). 
We understand that it can be overwhelming going to another country getting married for any couple, and maybe more so for same sex couples with the troubles still encountered in some places around the world. 
Therefore we welcome you to reach out, and ask any questions you might have concerning your situation.
Gay Marriage Agency for Your Gay Wedding Abroad?
If you are considering going for a gay wedding abroad, then don't worry. Getting Married in Denmark is for any couple that wish to get married.
We help any loving couples wanting to get married. There is no difference, and there shouldn't be, right?
We don't care about labels!
Danish people are very open minded, so you won't experience any troubles coming here.
We occasionally experience that foreign same sex couples will be worried about possible consequences in their home countries or maybe even during the wedding ceremony.
If you have any worries or questions about this then don't hesitate to ask us. There is always a way to solve any issues that might be on your mind. The Danish authorities are very understanding of this, and always attempt to be flexible and adjust to any circumstances you consider important.
Don't worry.
If you don't want anyone to know that you got married then no one will know.
The official Danish records are confidential. This means that your personal information will stay secret.
Though, if you want to register your wedding then obviously your local authorities will know that you got married in Denmark..
History of LGBTQ+ rights in Denmark
In 1933, Denmark was one of the first countries in the world to decriminalise men having sex.
The community and organisation 'LGBT Denmark' originated in 1948, and was founded by Axel Axgil. 
Axel joined his partner Eigil Axgil to become the first LGBT couple in the world to enter into a registered partnership in 1989 when. they got married at Copenhagen City Hall.
This is one of the most popular town-halls for foreigners to get married in Denmark and you could get married here too!
The beautiful Copenhagen Pride was established in 1996, and today the Pride celebrations are blooming with at least 25.000 active participants in the parade, and an estimated 300.000 people joining the parade on the streets of Copenhagen. Considering the size of Copenhagen this is a big parade!
In 2014 the Danish Parliament made it possible for a person to change their legal gender,  the first country in Europe to do so and 3rd country in the world. This meant that you could now change your gender without undergoing any surgery – and without any bureaucracy. 
Since 2014 the Danish Parliament have made continued and welcome changes to the rights and legal status of transgender persons.
In 2017 the parliament removed transgendered from the list of "mental illnesses". Within the old legal regime a transgender person needed a diagnosis in order to get access to hormonal treatment and surgery – as if the person was sick!
Getting Married at Copenhagen Pride?
Copenhagen Pride takes place every year in August. The parade is getting bigger and bigger each year, and the city is buzzing. If you are looking to spice up your wedding day then having a wedding during the Pride week could be a great choice. 
Copenhagen's LGBTQ+ environment
If you have no idea what to do or what to see in Copenhagen? Then check out this site, where you can check out some great places to visit, hotels, cafes and events happening in Copenhagen.
The area around the Copenhagen Street "Studiestræde" would probably be the place to go if you are looking for a "gay bar".
Actually the oldest bar in the world regarded as a gay bar is located in this area of Copenhagen. When it opened in 1917 it was publicly known for being for men to meet up. In 1955 it became publicly known as a gay bar and the bar is still going strong, and is called "Centralhjørnet". So take a look by if you are in this neighbourhood. 
In the same area you could also check out these bars "Cosy bar" and "Kiss Kiss", or whatever bar you feel like.