If you're getting married in Denmark, the chances are that at some point you'll need to prove your marital status or provide legal evidence of your marriage in another country. This can be done with a Danish Apostille legalisation, a certificate that verifies that your marriage certificate is official and genuine.
Danish-issued wedding certificates can be legalised for use abroad with a Hague Apostille. 
This is because Denmark is one of the Hague Convention countries, which follow the simplified registered Apostille process of the Hague Convention.
If you're not quite sure whether or not this affects you or simply want to know how to get an Apostille, Denmark's procedure for this is fortunately relatively simple.
This guide will tell you what you need to know about Hague Apostille Legalisation, Denmark's status for issuing an Apostille legalisation, and cover some common questions about it too. 
FAQs about Hague Apostille Legalisation in Denmark
What is the Hague Apostille Convention?
The Hague Apostille Convention is an international treaty made between Hague Apostille Convention countries. 
It is an agreement on how a document issued in any one of the Convention's member countries can be certified as suitable for legal recognition in any of the other member countries.
Once issued for use across the other Hague Apostille Convention countries, the document in question is what we call the Apostille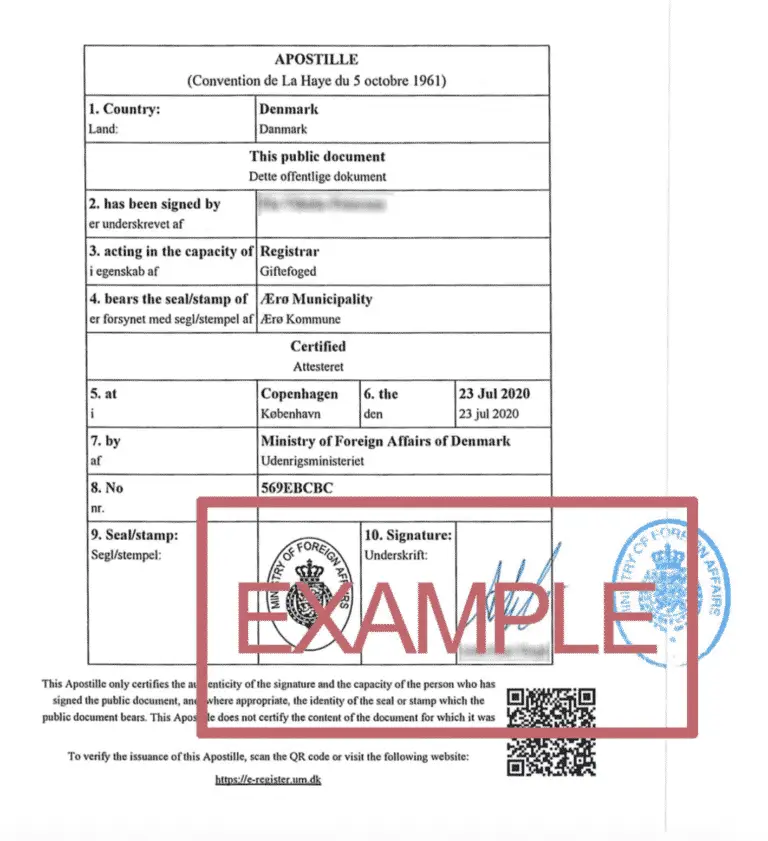 What Countries are Part of the Hague Apostille Convention?
There are currently 125 members within the Hague Apostille Convention, representing most first-world countries, and a significant number of developing nations as well. 
For a full, up-to-date list of apostille countries in 2023 that are signatories of (or will soon be joining) the Hague Apostille Convention, please see here:
Albania
Andorra
Antiqua and Barbuda
Argentina
Armenia
Australia
Austria
Azerbaijan
Bahamas
Bahrain
Barbados
Belarus
Belgium
Belize
Bolivia
Bosnia and Herzegovina
Botswana
Brazil
Brunei Darussalam
Bulgaria
Burundi
Cape Verde
Chile
China (Hong Kong)
China (Macao)
Colombia
Cook Islands
Costa Rica
Croatia
Cyprus
Czech Republic
Denmark
Dominica
Dominican Republic
Ecuador
El Salvador
Estonia
Fiji
Finland
France
Georgia
Germany
Greece
Granada
Guatemala
Honduras
Hong Kong
Hungary
Iceland
India
Ireland
Israel
Italy
Japan
Kazakhstan
Korea
Kosovo
Republic of Kyrgyzstan
Latvia
Lesotho
Liberia
Liechtenstein
Lithuania
Luxembourg
Macao (China)
Macedonia (FYR of)
Malawi
Malta
Marshall Islands
Mauritius
Mexico
Monaco
Mongolia
Montenegro
Morocco
Namibia
Netherlands
New Zealand
Nicaragua
Niue
Norway
Oman
Panama
Paraguay
Peru
Philippines
Poland
Portugal
Republic of Moldova
Russian Federation
Saint Kitts and Nevis
Saint Lucia
Saint Vincent and the Grenadines
Samoa
San Marino
Sao Tome and Principe
Serbia
Seychelles
Slovakia
Slovenia
South Africa
Spain
Suriname
Swaziland
Sweden
Switzerland
Tajikistan
The former Yugoslav Republic of Macedonia
Tonga
Trinidad and Tobago
Tunisia
Turkey
Ukraine
United Kingdom of Great Britain and Northern Ireland (UK)
Uruguay
United States of America (USA)
Uzbekistan
Vanuatu
Venezuela
Where does the name "Apostille" come from?
The word "Apostille" is derived from an old French word meaning "annotation," which translates as "note or explanation." 
This in turn, comes from the Latin word "Postilla." Postilla means "afterword, next or thereafter," reflecting the same original meaning as the French "Apostille" itself.
What is a Hague Convention?
A Hague Convention is an international treaty developed and adopted by the Hague Conference. There are multiple Hague Conventions, and a full list of them can be found on the Hague Conference website, under the heading of "Conventions."
The Apostille Convention is the 12th Hague Convention (including the Statute of the Hague Conference).
What is the Hague Conference?
The Hague Conference is an international, intergovernmental organisation that works in the field of private international law, and which serves to agree and administer a number of international conventions and protocols across all of its member countries. 
Hague Conventions are made and agreed by the Hague Conference, which is convened in sessions and takes the form of an international organisation serving the interests of its members.
How Can I Get my Danish Wedding Certificate Legalised?
Getting Married in Denmark can take care of Apostille legalisation on your behalf, and we recommend that all of the couples that we help ask us to do this.
However, we can also help you if you got married in Denmark in the past and didn't get an Apostille at the time.
Learn more about our Apostille Legalisation Service
Denmark's process for this is relatively simple, and you will generally get your documents back and ready to use quite quickly; but it is always wise to take care of the process well in advance!
Feel free to get in touch if you need further information on Apostilles in general, or have any more questions we can help with, without obligation.