Not many people know that Denmark is the European Las Vegas – just with more Hygge. Every year, thousands of couples from all over the globe flock to this cozy Nordic country with their hearts full of romance and their suitcases full of wedding paraphernalia. Whether you are looking for a romantic elopement or a fun celebration with your friends and family, Denmark has something for everyone. 
So, you book a place to live, hire a stylist, shop for your outfits, and find your photographers or videographers. And then you need to head to the City Hall, where you will meet the person who will seal your fate. 
Who is this mysterious figure? What does the ceremony entail? What should you expect? How can you avoid stress and enjoy every moment of your special day in a foreign country?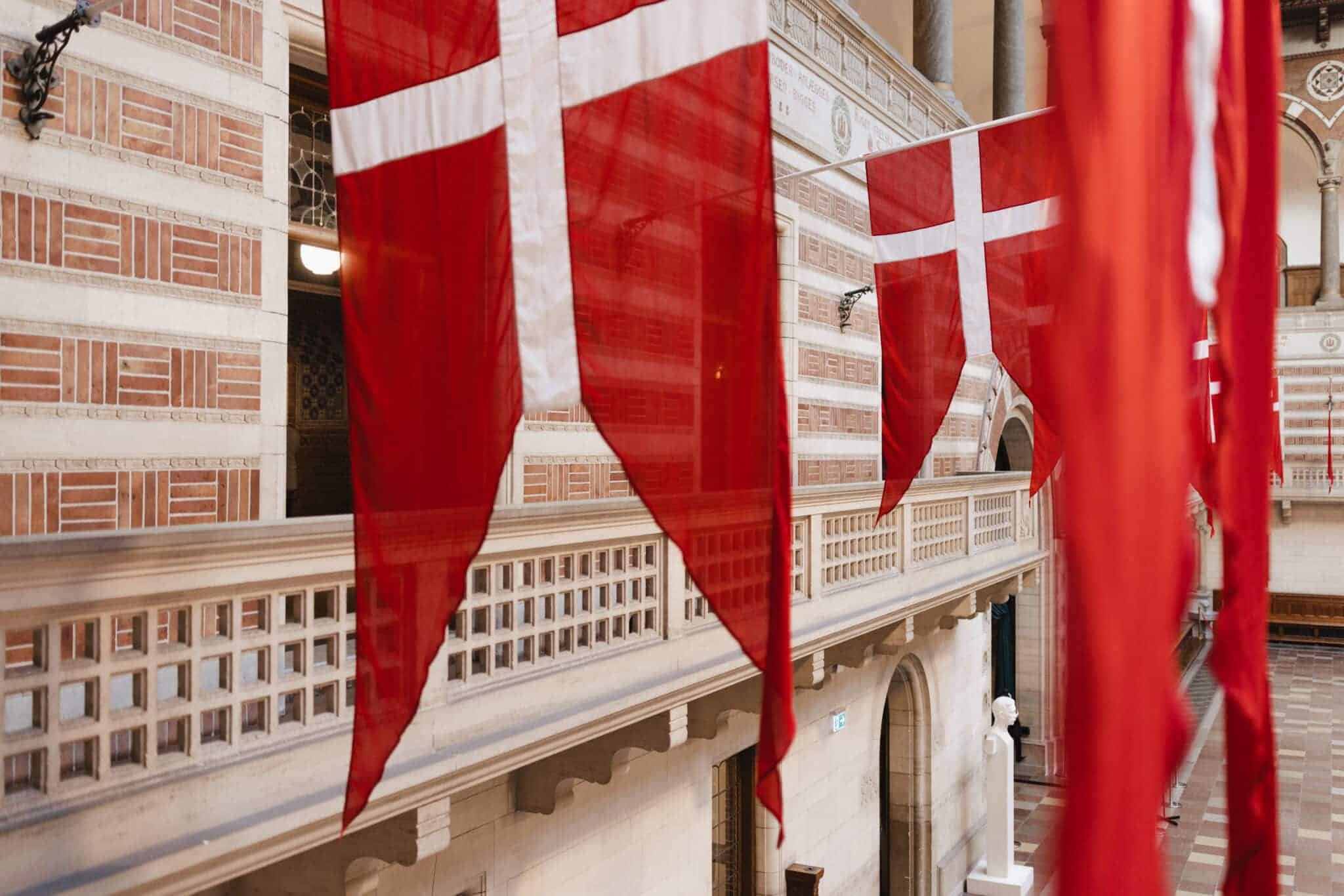 I interviewed Peter Holst Beck, one of the professionals who makes your love official, to find out the answers to these burning questions. He told me about the nuances of his job and shared with me his insights and tips on how to have a wonderful wedding experience in Denmark.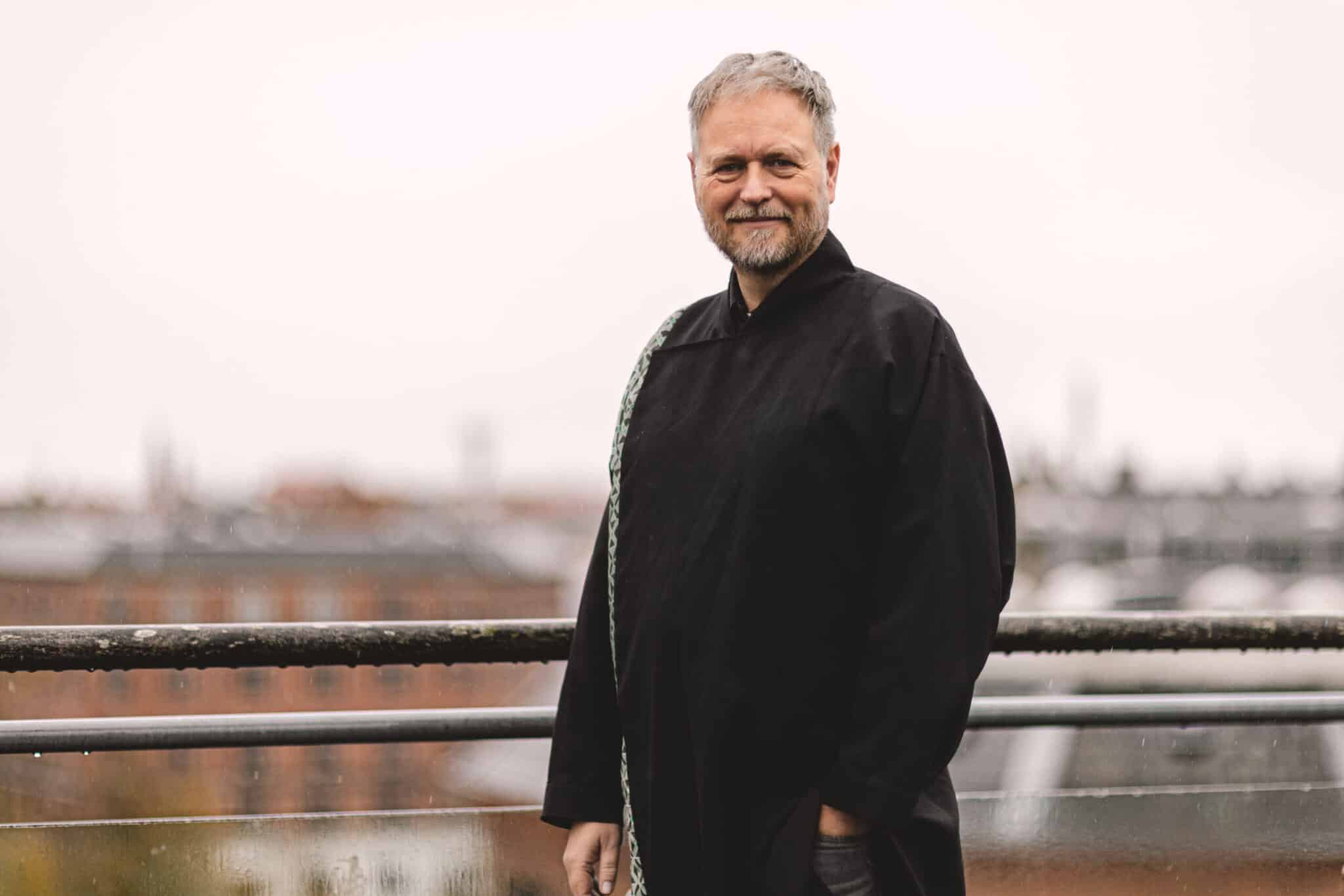 Elena: Hello Peter, thank you so much for having me here! Could you please introduce yourself and tell a little bit about how it happened, that you became a marriage register? 
Peter: Well, that's quite a funny story actually, because I've been educated as an actor many years ago and have been as so ever since. Recently for the last 10 years, I've been producing more and directing. But then the corona came, and within my craft, everything just closed down. I was in the middle of the performance, and I said: what am I going to do now? Suddenly, I saw this job application on the Internet.
I just started to laugh because I thought that was so funny, to become a registrar. 
The article said that was the best job in Denmark.
So, why not? Why not apply? Then I videoed myself, which I did myself as a registrar where I gave some kind of ceremony that I worked out.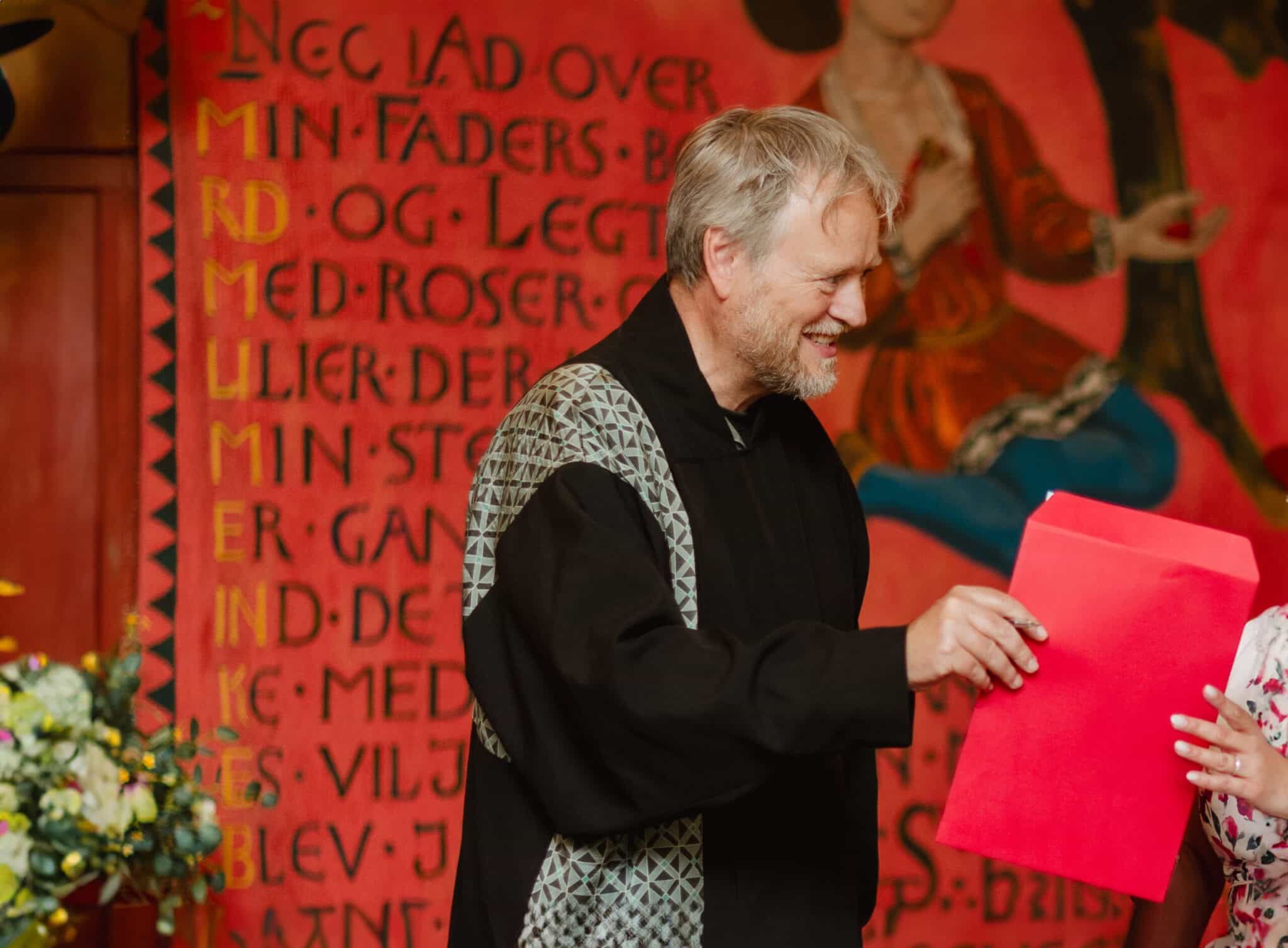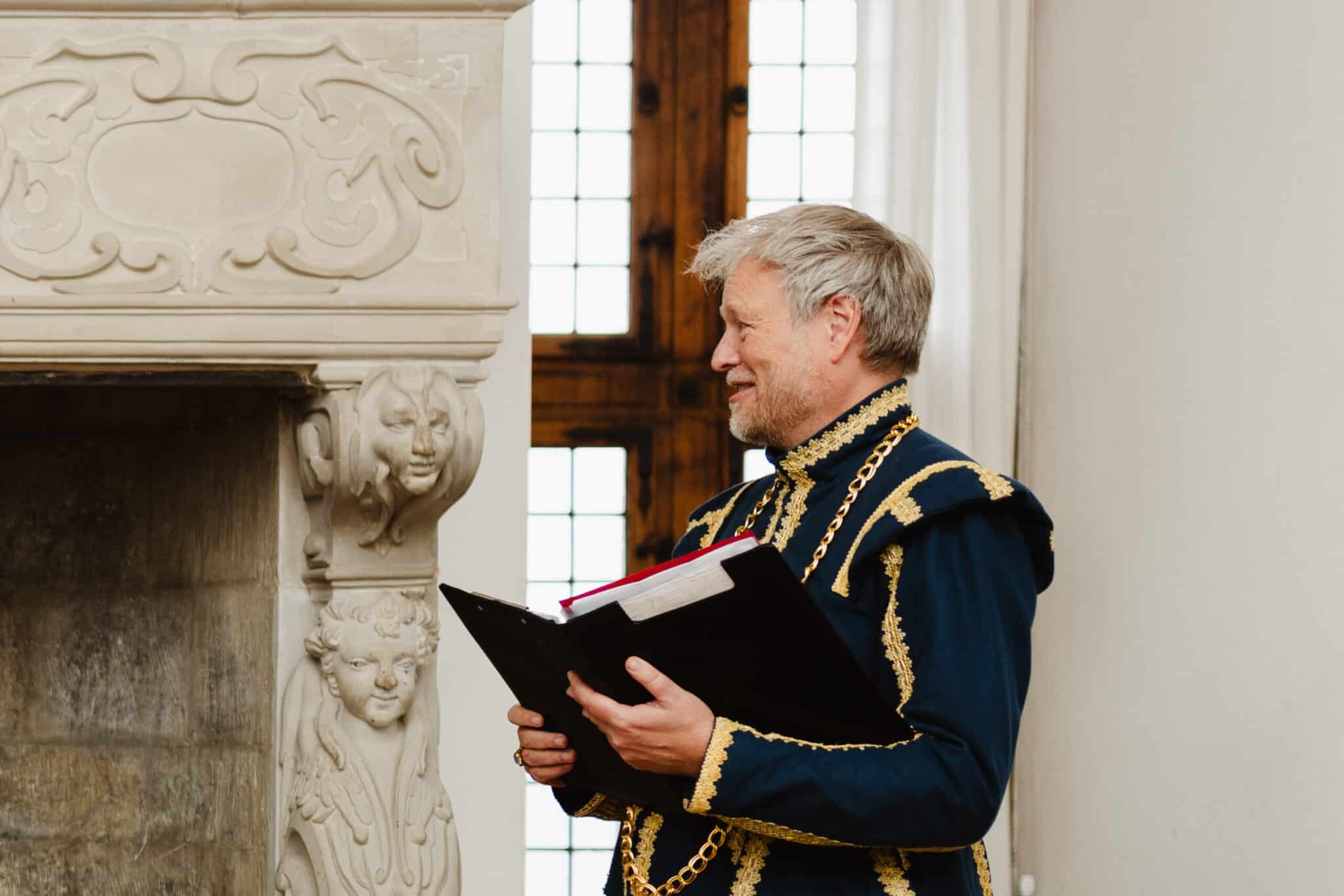 And after that, they asked me to come for a talk. And then I was tested:  I had half an hour to write a speech about a couple, then they gave me some notes about a couple, then they wanted to see the speech afterwards, and then I've caught the essential feeling of the situation and of the couple. So, I did that and they were very satisfied. And I got the job.
Elena:  Do you create your speeches on your own or are there any prepared speeches for the couples you register? 
Peter: That's the wonderful thing about having this job: that we can do our own speeches totally. We have some small things that we must say – that need to be said. But that's actually only 30 seconds or something like that. 
Elena: 'You have contacted the City Hall for the purpose of civil marriage, and your wish to get married will now be fulfilled in front of the public authorities', right? 
Peter: Exactly! Do you know what makes this job so unique in Copenhagen? They really put an effort into preparing us to do this job, so we have speech coaches – people from the government that usually write speeches for the ministers. We also have actors to show us our body language, so you know how to use your body when you talk to someone and how to approach people in the right manner. We also had German lessons because most of us spoke awfully German. We play around about the situation of marriage, and the words that are used within the marriage ceremony. 
So, they really build us up. That's nice, and that makes it fun.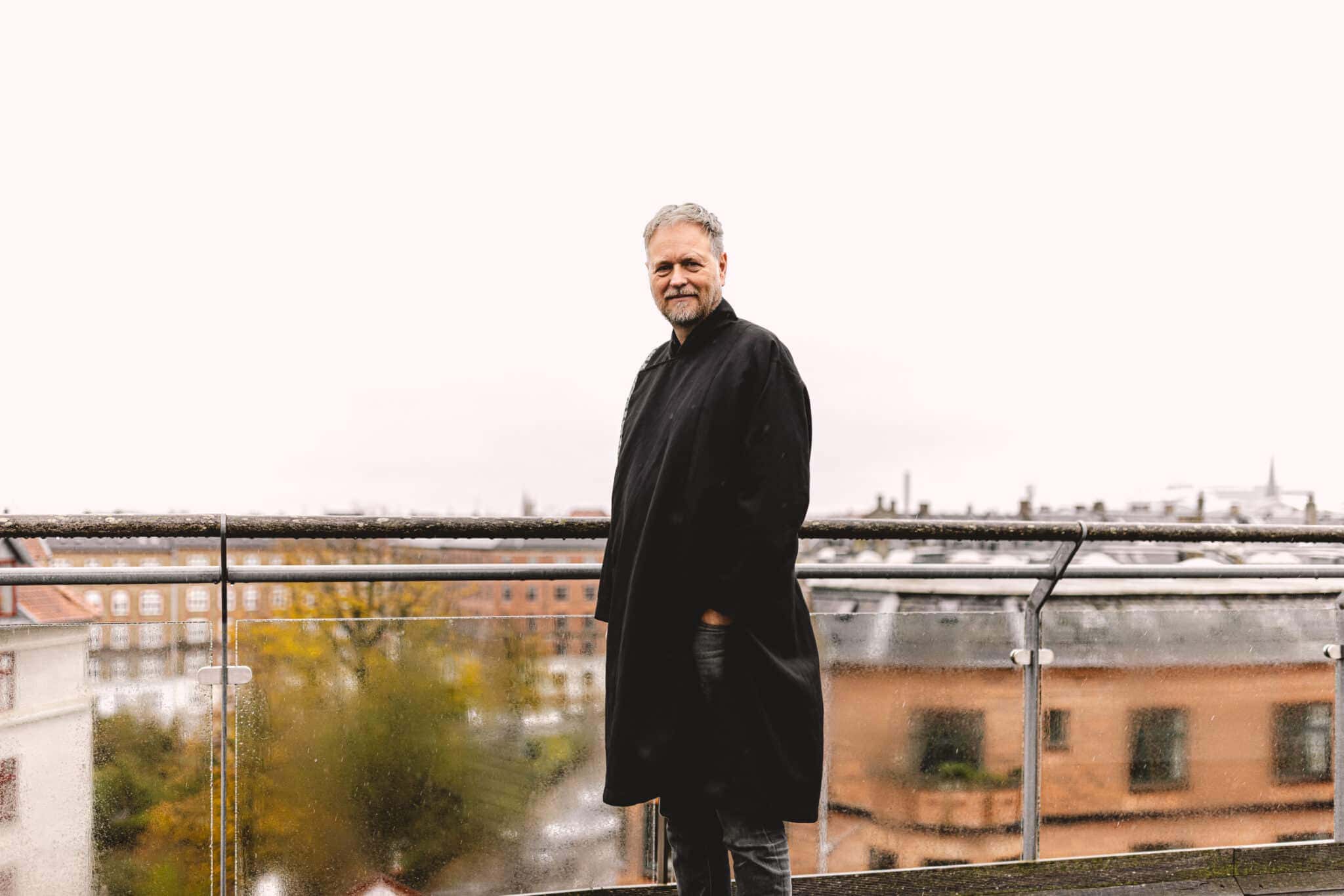 Elena: What do you do to make your speech sound personal?
Peter:  We have a new couple every 10 minutes. Well, they are just throughout the day, I can have up to 20 couples. 
However, each marriage is unique. So, you need to understand who's standing in front of you, even though you only have a few seconds to figure that out and then to be present, really to be present to make the people feel that it's their unique moment, a once in a lifetime thing. 
I always observe a couple. So, I put in some personalized things during the speech, like their clothing, some hints about their guests, where they are from, for instance, if they're from Berlin, I say something about Berlin.
I can even figure out how many years they've been together. So, we can have a talk about that because that's also fun.  If it's a young couple, I do my speech in one way. If it's an older couple that's been together for 40 years, then I try to adjust it, create another and then speak about life. 
I always try to adjust the speed for who's standing in front of me. And I do that within seconds because one of the main topics is to be present and to show empathy and understanding.
Elena: Do you have a lunch break or a coffee break during the day? 
Peter: No, not really.
Elena:  How do you survive during the day?
Peter: The ceremonies can go nonstop for six hours, and I really need to be as fresh and as excited for the last wedding as well as the first wedding. Normally, a registrar's shift is just under two hours, but I sometimes choose to take a double shift when I'm there anyway. And if something drags on during the first shift, the break in between will be short before I have to start again. It is absolutely voluntary, I do it only because I can and wish, and not too often. But, it's true: that is a very tense work.
Elena: Are there any other cool places besides the City Hall of Copenhagen where you hold a ceremony as a registrar? 
Peter: Oh, yeah. I mean, wherever. On a boat, in a nice restaurant… But I also like to do those themed weddings. That's so fun. When I have a ceremony in a Castle, I always dress up as the chancellor of Denmark. I have this fifteen hundred century dress, and a gold chain around and finger rings. I love that!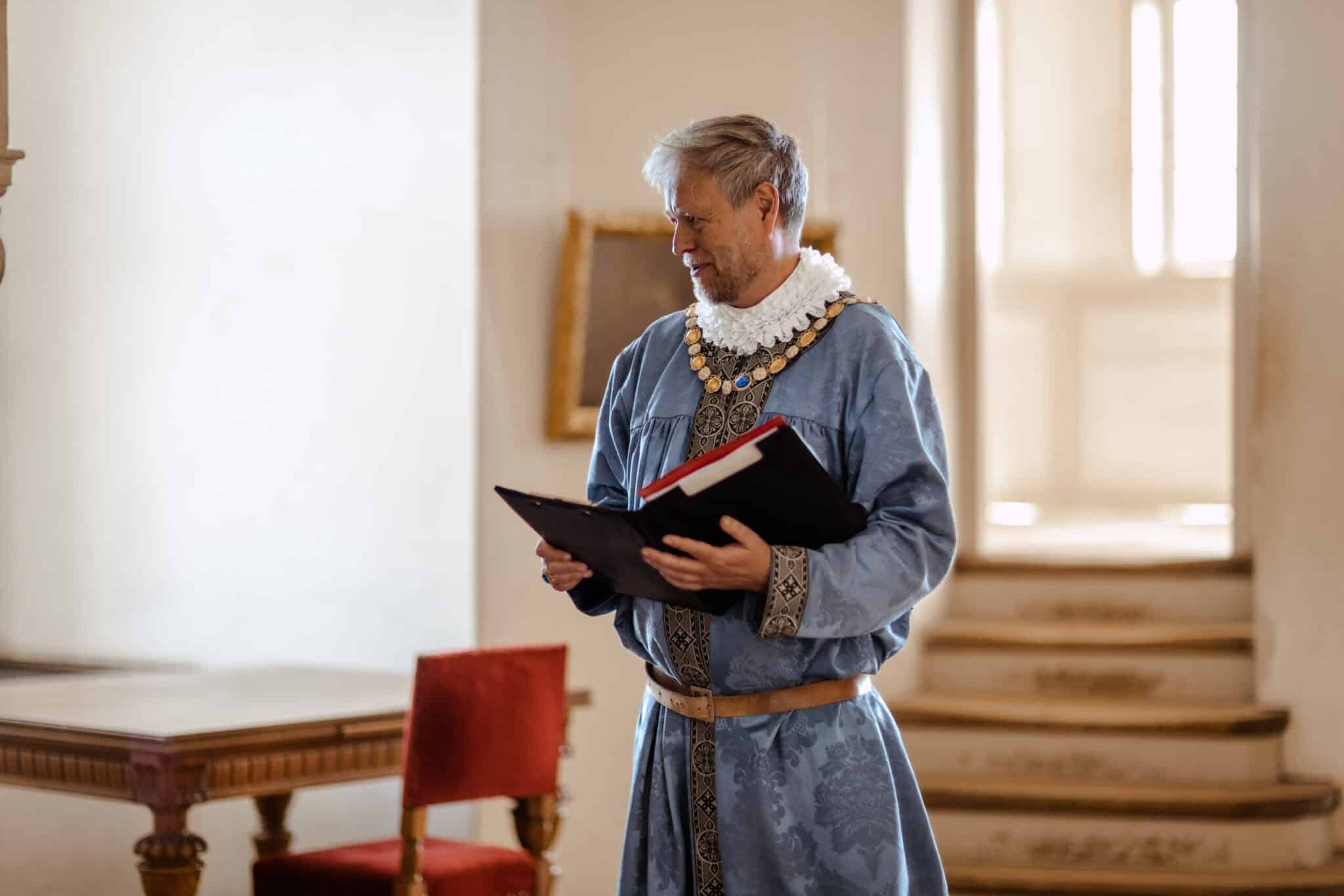 Elena: What is the largest number of couples you have married in one working day?
Peter: I think the last time I was working at the Royal Theater; I had 32 couples. 
I was there on Hans Christian Anderson's birthday on the 2nd April and dressed as Hans Christian Anderson with a hat, makeup and everything. Then I crushed the speech.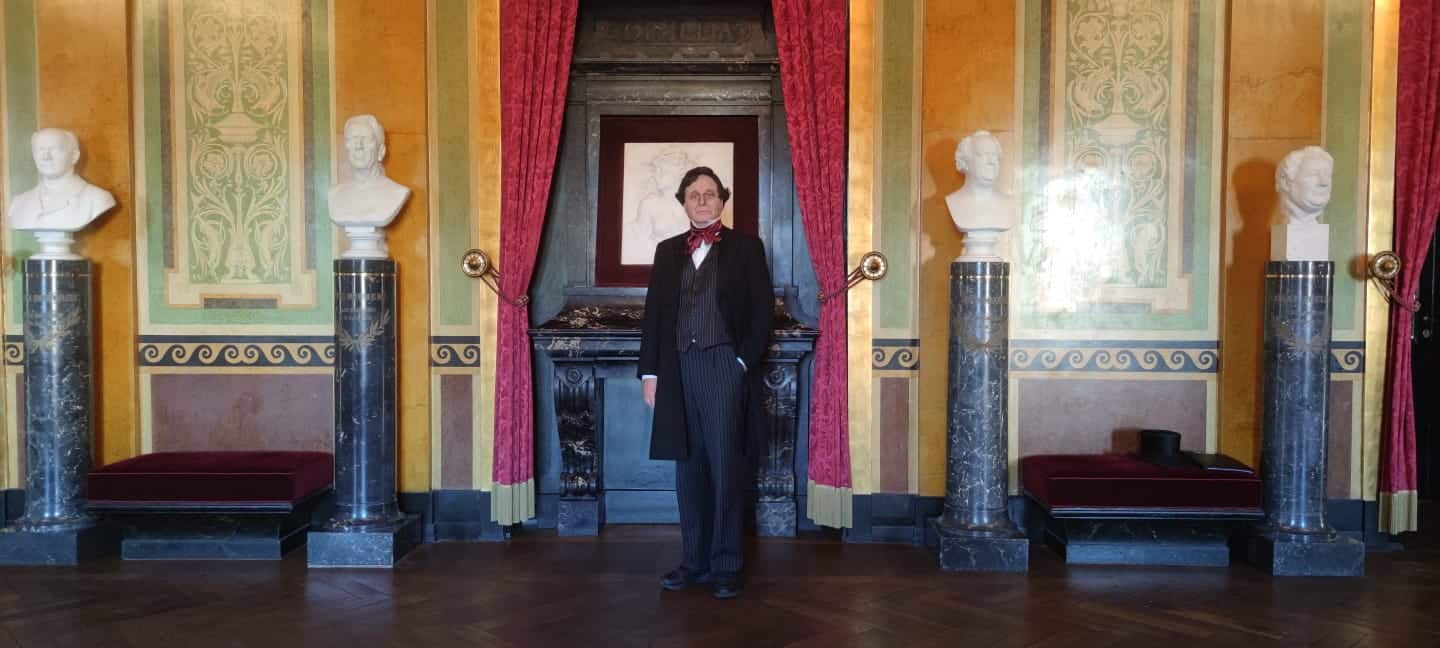 How would Hans Christian Anderson have written this piece? So, I've done it as good as I could, using his words within the speech: about marriage, about relationships, about philosophy, about life and everything. 
And then the couple, they came in and then they, my witnesses, my helpers from the town hall, they called me Mr. Anderson!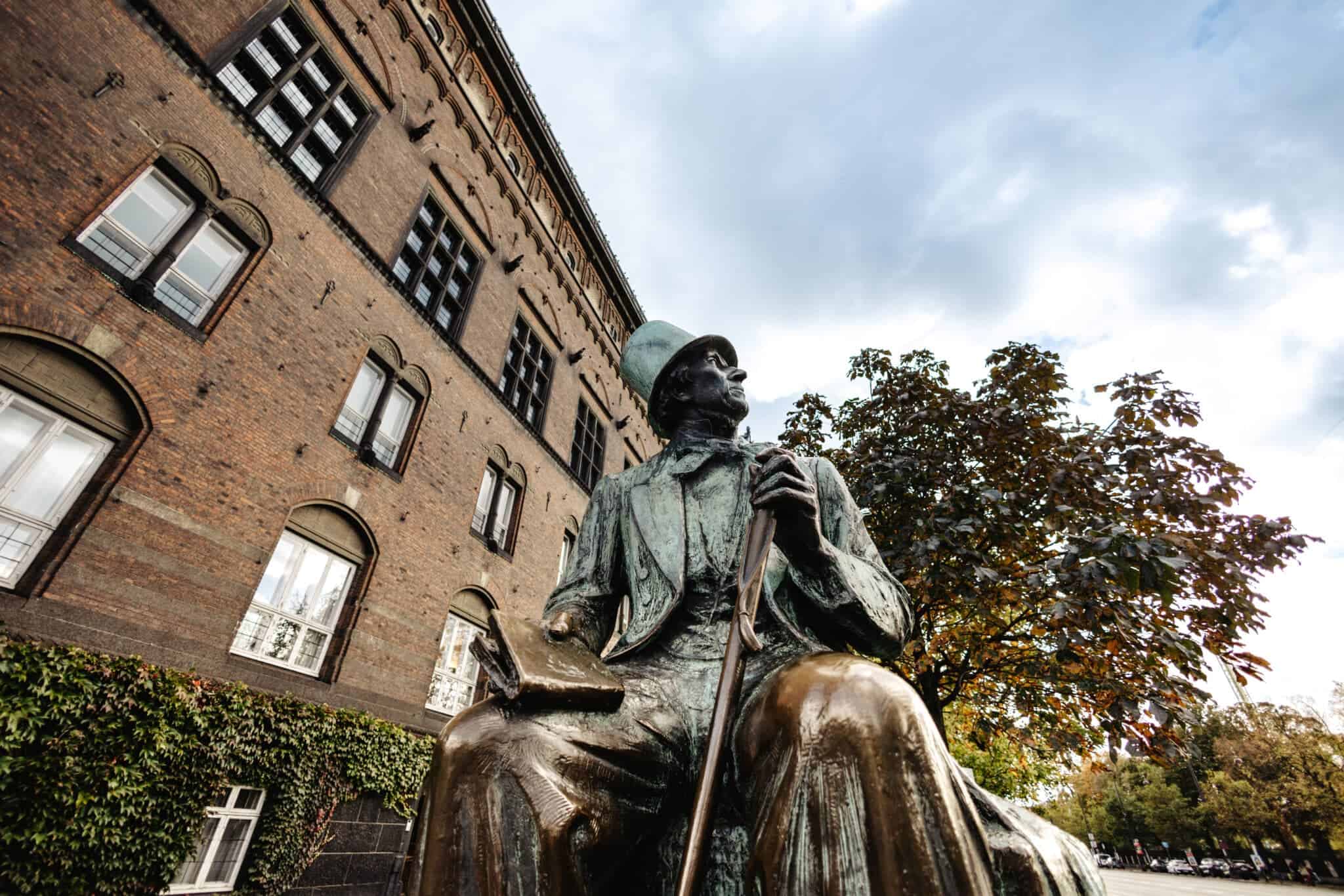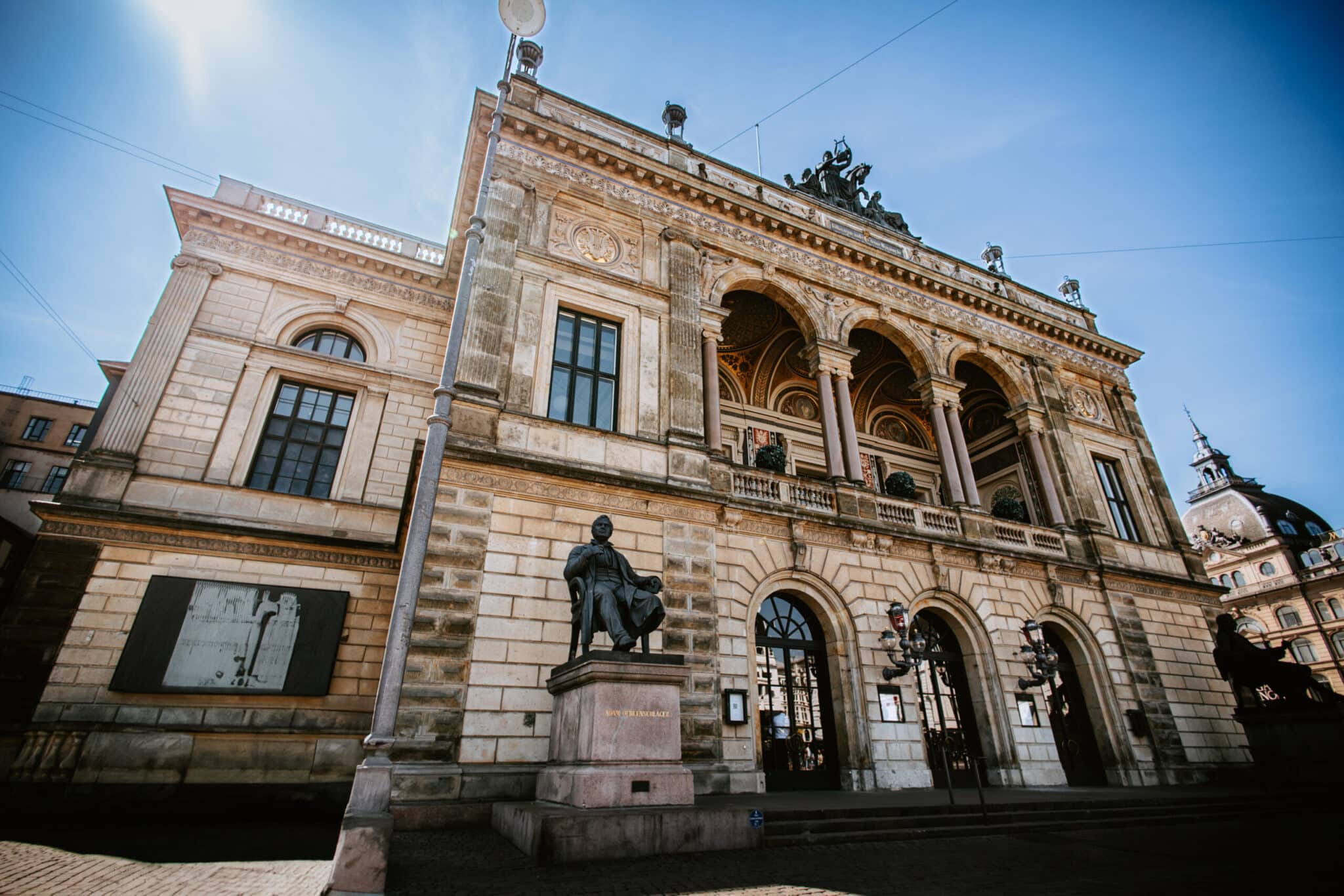 I also had a Lord of the Rings themed wedding. Oh, that was amazing; Goodness, I was scanned out. My speech was in Elvish!
I love that because I think we should be able to do that, to catch the situation. How do they want it? They want a theme? All right. So, what can we do for them?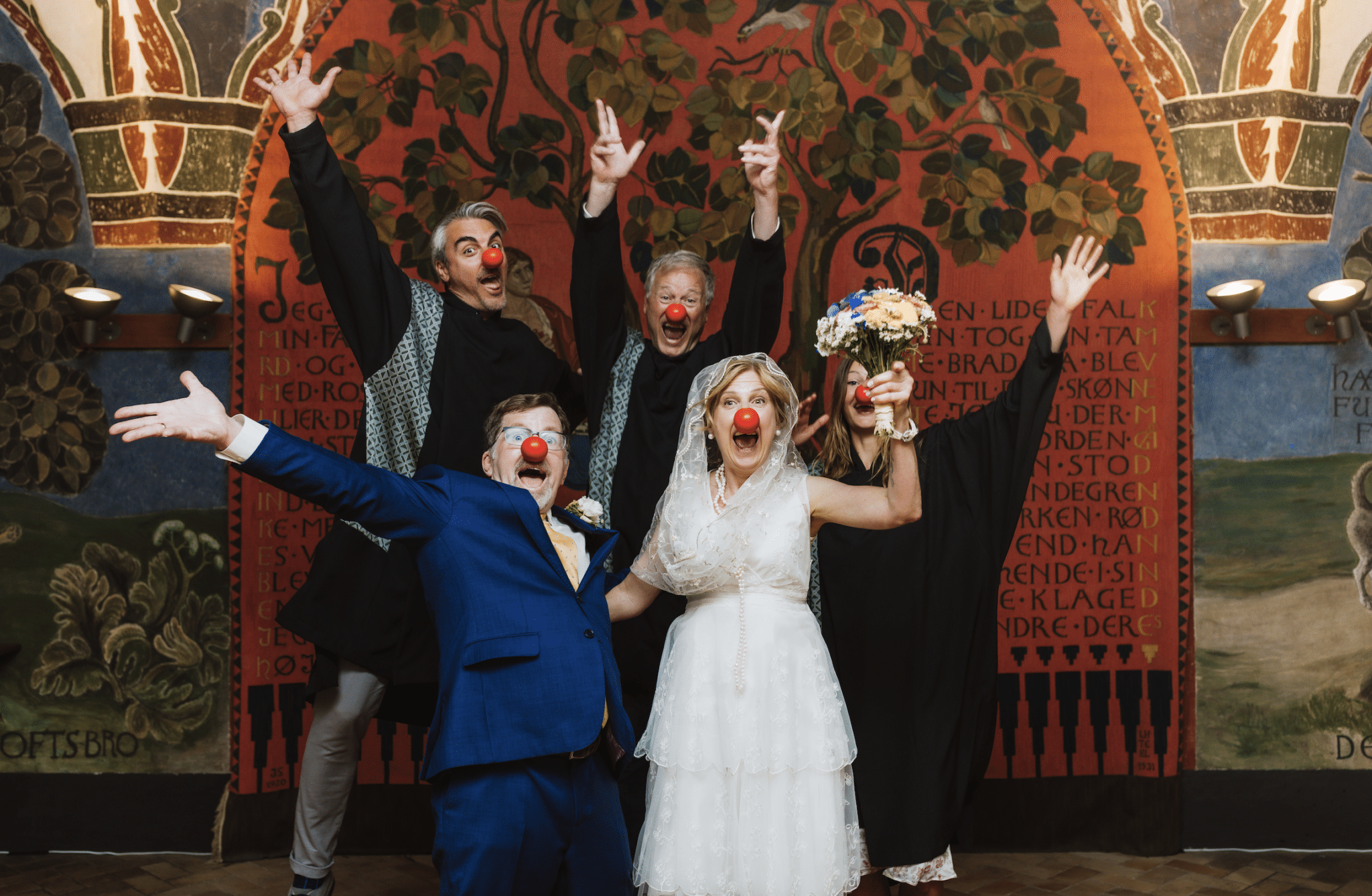 I also had a couple, where they thought it could be so much fun: they argued before the wedding! They had written down the lines, they stayed in front of the guests and asked each other: "Why are we going to marry each other? Can you tell me that?" They also had a couple of lines for me, so we had some kind of an argument about marriage.
The guests were just shocked: what's happening? What is going on here? Of course, it was kind of a performance, but I hadn't met them before, we only talked with them shortly before the ceremony. 
They wanted that. They had good chemistry. That's what they have imagined. They wanted their marriage to be like that: they were ready to make a statement, but they also wanted to make a funny situation out of it.
And I'm prepared for that. 
However, I'm always sure there should be a romantic moment. In any case, whether it's themed or not themed, it should be a romantic, personal moment. Even though we make fun, it's also about love. It's all about love.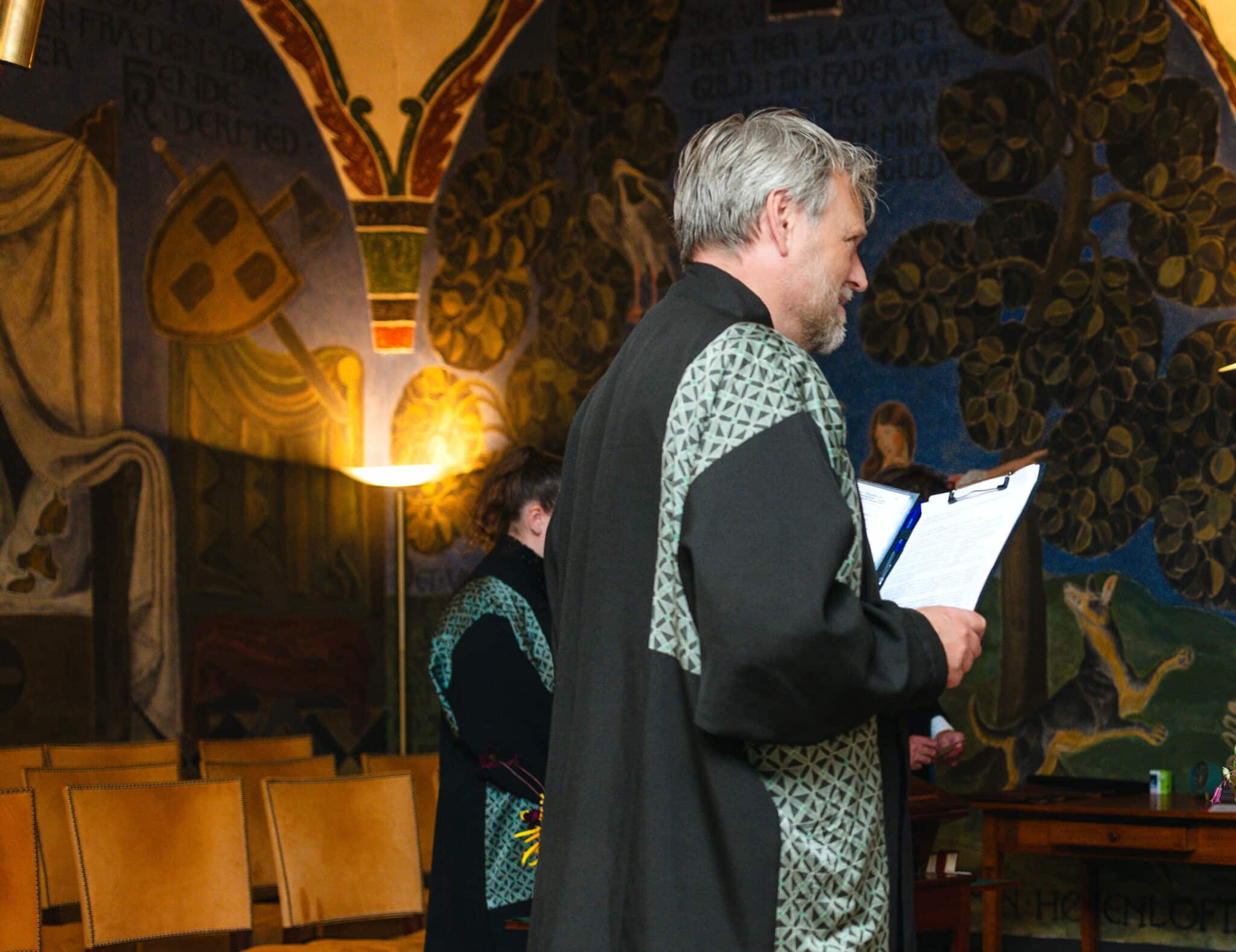 Elena:  Have you experienced any unpleasant situations? 
Peter: I have had the couples several times where I was so much in doubt: are they really in love or this is a fake marriage or human trafficking? Where they, for instance, only spoke Russian or Ukrainian or Polish or any other language, which I didn't understand.  
Elena: Isn't it a requirement from the City Hall to have a translator represented on the ceremony, if a couple can't speak English or German?
Peter:  It is a requirement. So, I have had some situations where I didn't know if this is a real marriage or if it is trafficking. I had to say: no, I can't marry you as long as you don't understand my basic questions. 
Elena: One of your tips to the couples would be "learn the language", right? Do you have any other tips to the couples to be: any "must dos"? 
Peter: Actually, most couples are getting nervous before the wedding. So be fine with that. 
Of course, you're a bit nervous, but please be in the moment. Some things might go just not as you planned, that really doesn't matter. It's life. So, something always happens: "Oh, God, I forgot the rings", or "I can't get my mom, my grandpa through the phone, as there is no connection!". 
Come on, easy now, laugh it out. 
Take it easy and be in the moment, and enjoy, because you've done really good so far. I know it's very naive to say, but I really, really mean it: don't stress out over small things, it doesn't matter. Just be in the moment.