Where can I eat late afternoon in Copenhagen?
We are often asked, here at GMiD, by couples who are marrying in the Copenhagen area, where we can suggest they can go for a late lunch after their early-mid afternoon wedding ceremony. 
What a lot of people don't realise is that many of the restaurants in the city do in fact close their kitchen after the 'standard' lunch time hours (around 2.30pm – 3pm) while they prepare for the evening dinner service. 
For those couples who are looking for a place to eat in the late afternoon while in Copenhagen, if nothing has been pre booked, it can be the case that you are potentially going to be left walking the streets and searching earnestly for somewhere that is open and you can grab a bite to eat. 
Cold and Hungry in Copenhagen?
Would you believe, one cold but sunny early March (out of season) afternoon, we; Rasmus, Mie and Leanne, inadvertently found ourselves in this exact situation! 
It was 3pm in the afternoon, we had been in a meeting that ran several hours longer than we anticipated and we were fueled on nothing but coffee since breakfast. 
So, what does happen when you're hungry at 3pm in Copenhagen and you'd like to get something small but tasty to eat? 
Well, I can confirm first hand that you WILL walk through a number of restaurant doors to ask if they can serve you, only to be told; "Undskyld, køkkenet er nu lukket." / "Apologies, the kitchen is now closed."
OK, so full disclosure here; I, Leanne, get extremely 'hangry' (hungry / angry) when I haven't eaten lunch, and at the risk of sounding overly dramatic, I was on the edge at this point!  
I was fully ready to quit my job and leave my friends & colleagues behind and head for the hot dog stand located on City Hall square! 
To be fair, the hot dog stand would NOT have been a bad decision but as it happened at that moment, when I felt that hangry edge hurtling towards me at 100 miles an hour, we walked into a restaurant called Restaurant Pilekælderen.
We were welcomed by a waiter who held the door open for us, had a warm smile and a kind face. Phew, there was no need to abandon my friends and walk out of my job just yet! 😉
The restaurant was small and cosy. There was only 1 other couple eating and we put that down to the time of day.
Restaurant Pilekælderen actually lived up to all my expectations on that cold February afternoon. We were able to relax, order our drinks in a leisurely manner, and chat without the pressure of being rushed into choosing what we would like for our lunch. But at the same time, the same friendly waiter who welcomed us inside, was attentive and responsive. 
The menus were handed to us in both Danish and English, which is of course super important if you're a tourist in this lovely city.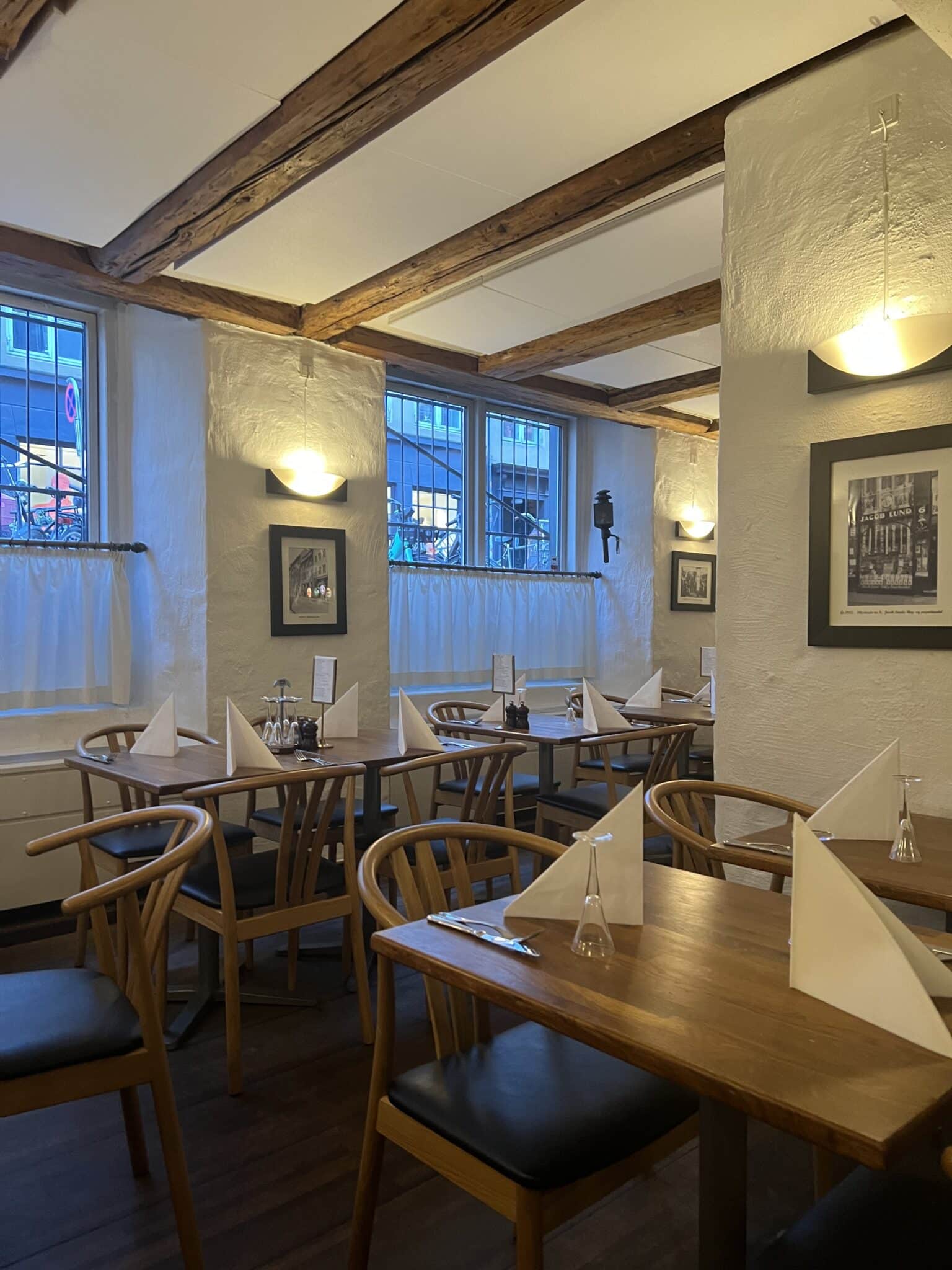 "What was on the menu?" I hear you ask!! Well it seemed only fitting (or lucky?) while out for lunch with Rasmus and Mie, who are both very proudly Danish, that we had found a restaurant that was not only open, but that served the beloved Danish traditional lunch menu of Smørrebrød.
Smørrebrød, for those of you who don't know, is what is affectionately known as an 'open-faced' sandwich. It is a piece of dark brown Rye bread, with a selection of toppings.
Usually when in any Smørrebrød restaurant, you will find that the toppings, for the most part, follow a similar and common theme and the same was true here at Restaurant Pilekælderen.
The top five most popular choices of Smørrebrød being:
Egg and prawns with mayonnaise (æg og rejer med mayonnaise)  

Roasted pork with red cabbage and pickles (flæskesteg med rødkål) 

Fish fillet with remoulade (fiskefilet med remoulade) 

Roast beef with horseradish, remoulade and roasted onions (roastbeef med peberrod, remoulade og ristede løg) 

Potatoes with mayonnaise and chives (kartoffelmad med mayonnaise og purløg)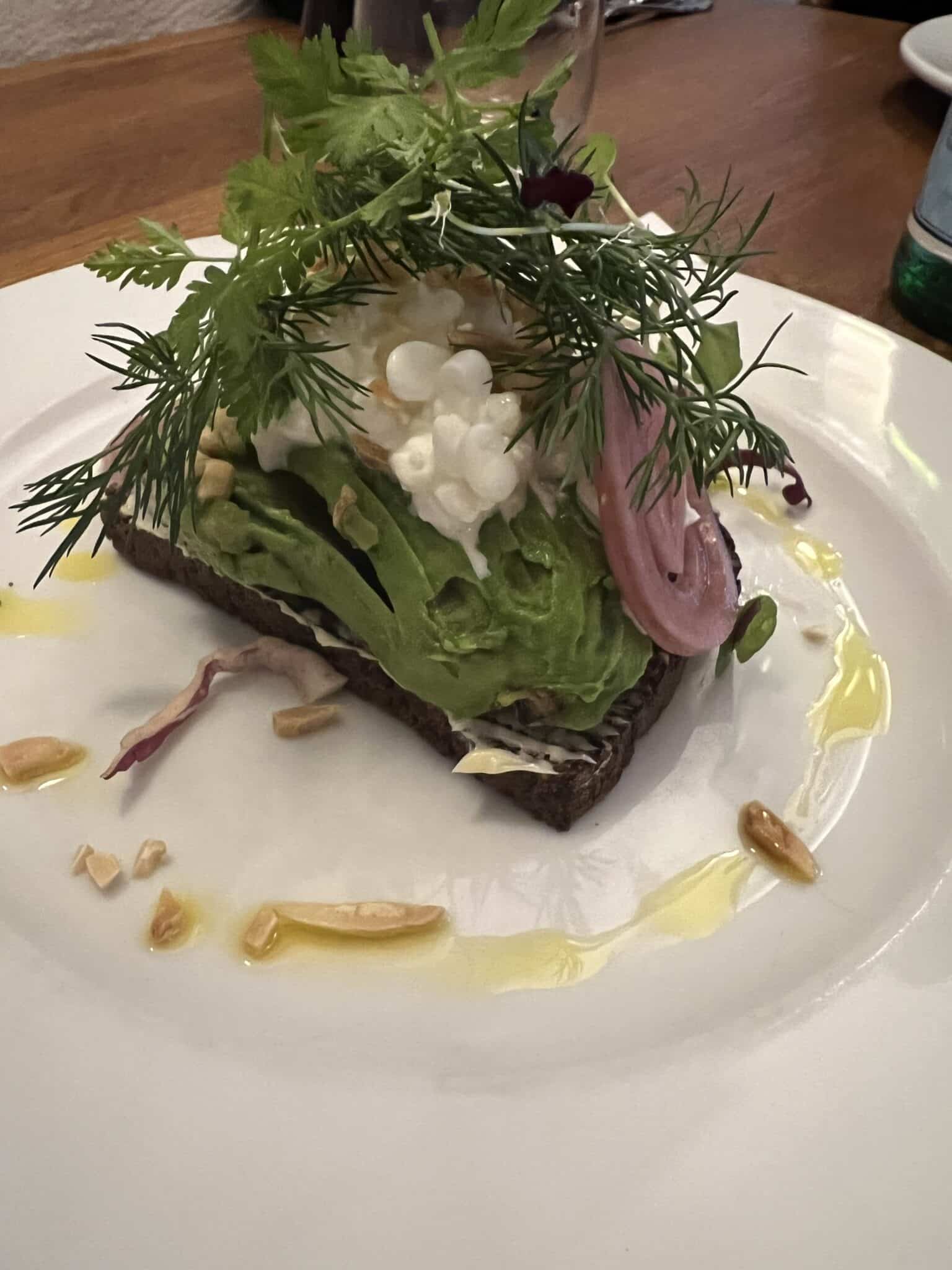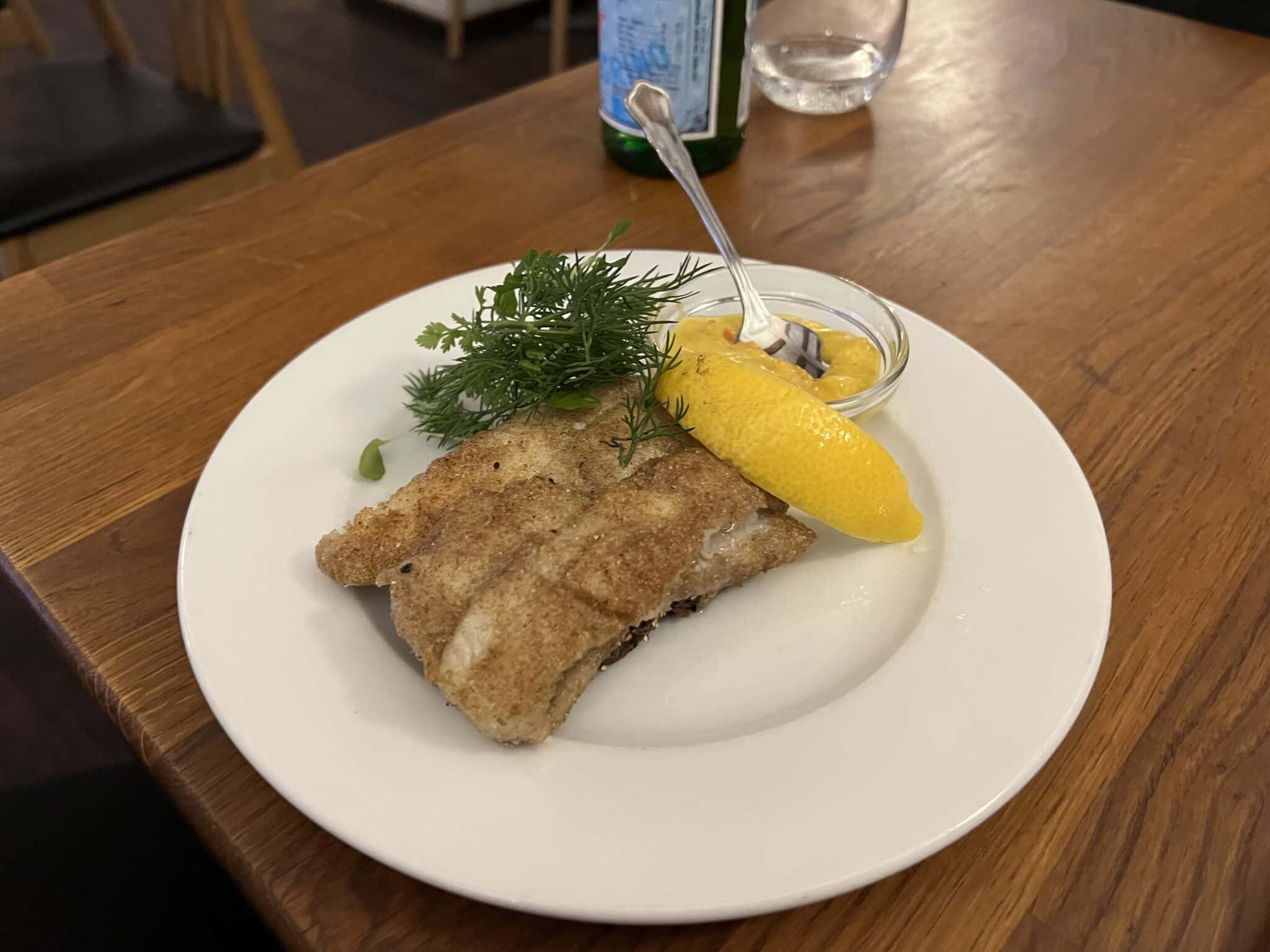 We each chose 2 Smørrebrød. Mie and Rasmus each chose potatoes with mayo and chives. Here at Pilekælderen they added crispy bacon to this classic and both Mie and Rasmus agreed this was an amazing addition, that without doubt added that extra layer of flavour and depth to an already delicious dish. 
Mie also chose the smoked salmon, avocado & poached egg (which I had also), while Rasmus' 2nd choice was avocado with cottage cheese and pickles. My 2nd choice, fish fillet with remoulade: my absolute favourite – it's not particularly pretty but my goodness it tastes good! 
The portion sizes of each serving were very generous and 2 plates was definitely enough for a lunch, with choices for meat eaters, pescatarians and vegetarians alike. While there was nothing on the menu for vegans, I'm sure they would have adapted some of the vegetarian options for those looking for a plant based option! You'd need to confirm that with the restaurant directly however, don't just take my word for it!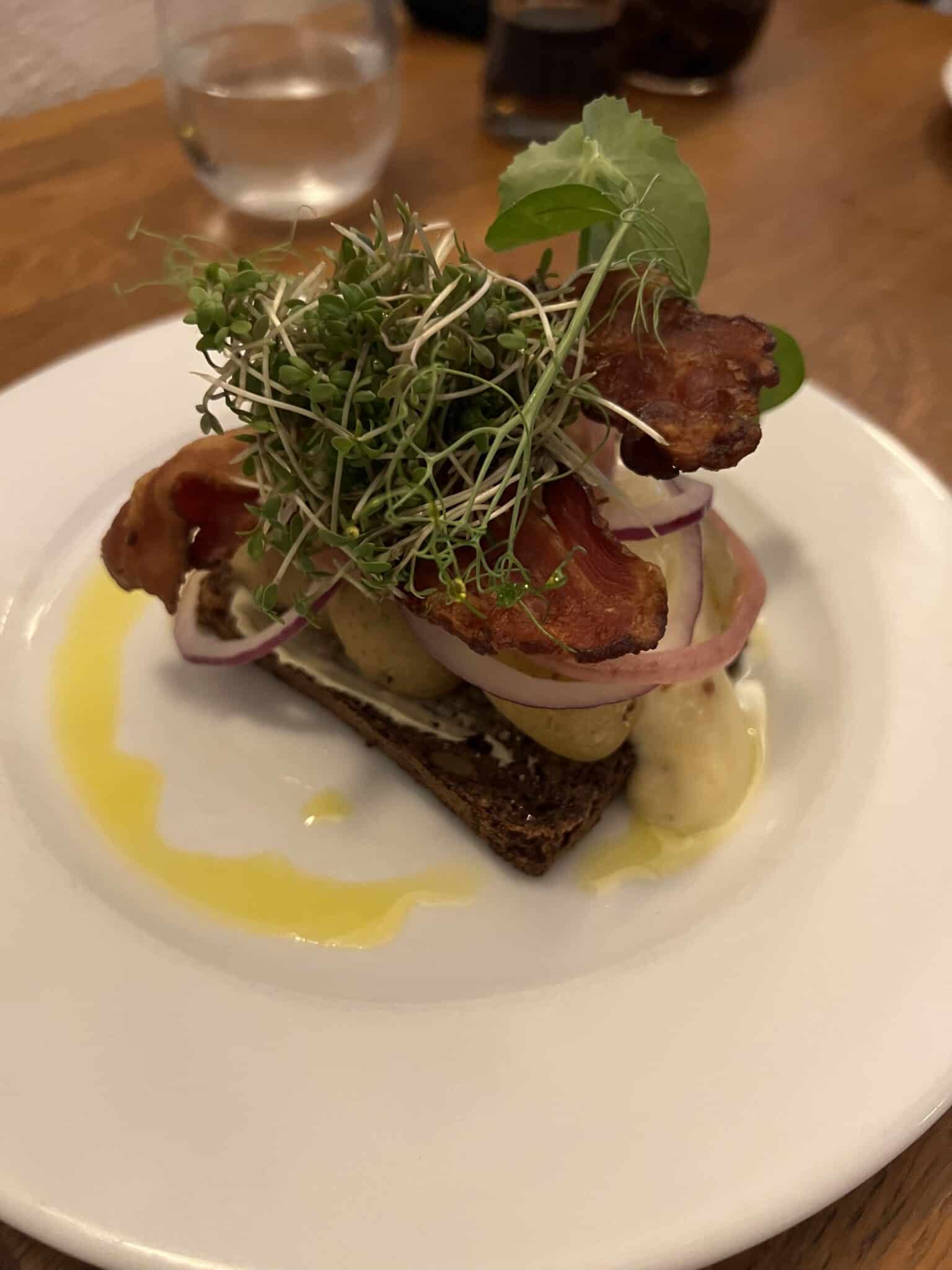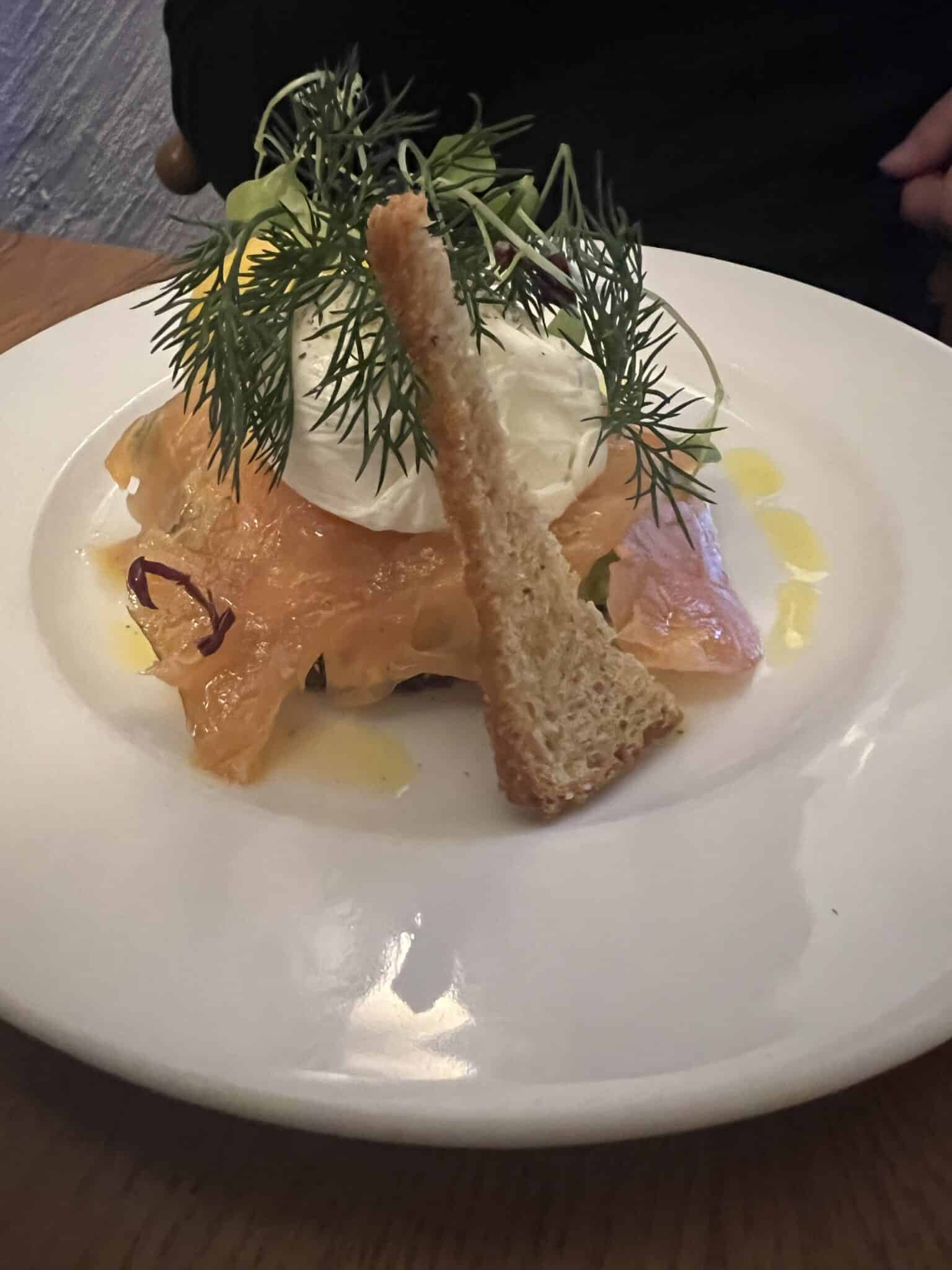 The cost of each plate varied. The cheapest smørrebrød options on the menu started at 89 Danish Krone which is roughly €12, with the most expensive being 165 Krone, approx. €22, and a few price variations between these two amounts. 
We all had 2 plates, plus a soft drink each (no alcohol) and the bill came to 784 Krone, which includes 25% tax. This is approx. €105 in total. A tip was not included on the bill.
€105 might initially seem a lot for lunch but everything in Copenhagen is more expensive than you are probably expecting it to be. This is actually a really reasonable amount for lunch for 3 people, who left with full bellies and happy hearts!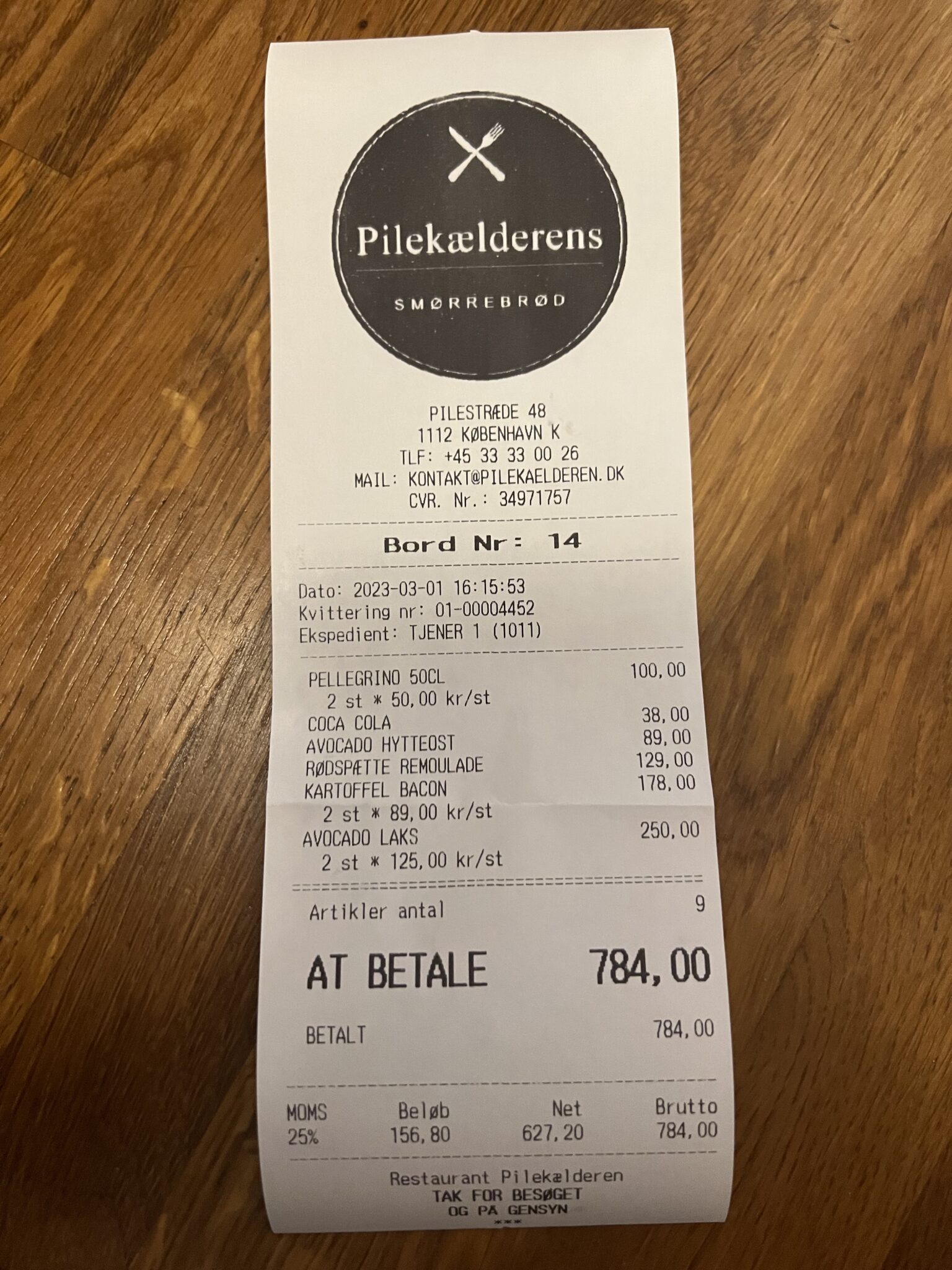 All in all we had a cosy, simple, traditional, filling and delicious lunch in Restaurant Pilekælderen and we'd definitely go back. 
More importantly, what was great to find out is that clearly, there are a number of restaurants dotted around the city that either stay open the whole day, or that close their kitchens for a much smaller time window to prepare for the evening dinner service, meaning it is possible to get this elusive late afternoon bite to eat! 
BUT to avoid the aimless walking around to try and find somewhere that is open like we did, our recommendation is that you research where you'd like to go eat beforehand, and that you book ahead if you can. Enjoy!