Kolding is around a 1 hour drive from the German border, and is a town which is bustling and modern, while maintaining that quaint Danish charm that so many of the towns and cities in Denmark possess.  
It is impossible, once you arrive in Kolding, to avoid the magnificent Koldinghus, towering protectively over the town! Its intriguing and historic magnificence invites all those who catch sight of it, to go and check it out. 
Hopefully, if you're thinking of getting married in Kolding, you might like to add a visit to Koldinghus to your list of things to do while you're here. It would make the most perfect backdrop to your wedding photos, whatever the weather! 😉  
With almost 5000 (avg. 4.5) Google reviews, it's clear that Koldinghus is very much worth taking the time to visit if you are able to, during your stay in Kolding. It is a popular tourist attraction for very good reason and doesn't fail to disappoint those who wander through its magnificent grounds. 
Koldinghus, or Kolding Castle in English, is a Royal Castle which is 750 years old. It stands tall amongst absolutely beautiful surroundings, proudly towering over Slotsø lake, Kolding Fjord and the harbour town of Kolding. 
While the castle has very modern exhibitions on show within its walls, it's impossible, once there, to ignore the sheer old age and history that seeps out of the very fibre of this magnificent building.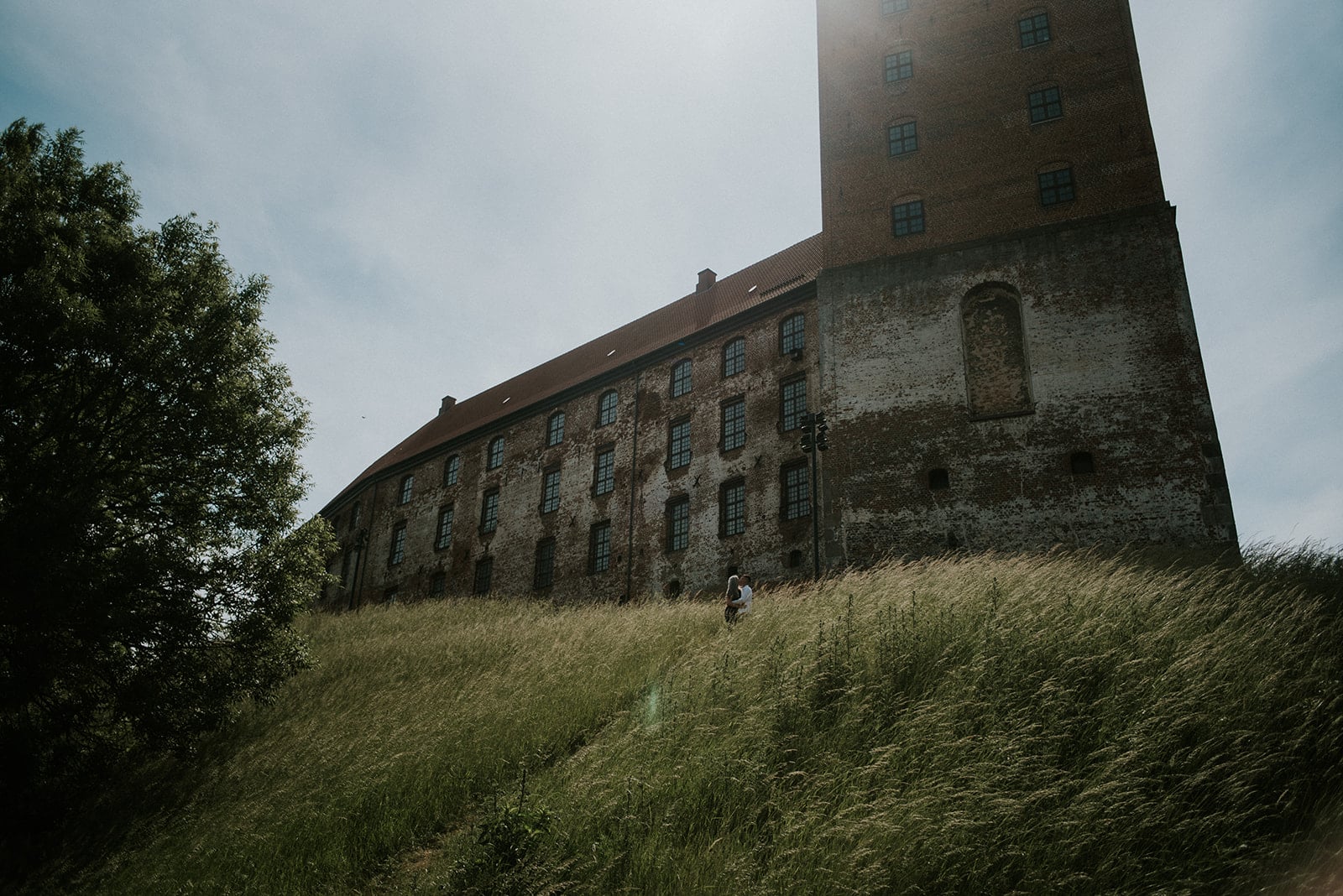 A Huge Fire at Koldinghus
A pivotal part of Koldinghus' history was a vast and hugely destructive fire that tore through the castle in 1808, and left swathes of the original and once magnificent structure in ruins. 
While the castle was left in this ruinous state for many years following the fire, the fire did in fact strangely help the castle attract a lot of attention in an unexpected kind of way! 
It is said to have become a muse for a number of artists around that time, who took inspiration for their work from this once grand but now partially ruined building. 
It was a number of years after the fire before anyone discussed, or even contemplated, the idea of rebuilding or renovating Koldinghus, but in the 1830s, Hans Christian Anderson was one of the first high profile figures to suggest the castle at least deserved protection.
From there, a restoration movement began to slowly take shape in the 1860s and by the end of the 1890s it had been decided that the parts of Koldinghus that remained whole and intact should be restored, but the destroyed ruins should be kept exactly as they were and displayed for all to see as part of an important historical exhibition. 
The architects rebuilding the castle were extremely clever and very respectful; they chose to use very different building materials from the original building, so that it would be clear for all who visit to know which parts of the castle they are in; the original castle, or the newer restored parts.
The ruin that remains inside the restored and rebuilt Koldinghus now serves as the centrepiece of the museum – a place where people can come from miles around to soak up this utterly wonderful story of Danish history, architecture and pride. 
What is there to see and do at Koldinghus?
This once proud stronghold of Denmark's defence system, now attracts a huge number of tourists each year; there to experience the world class museum and attractions within its walls.
Permanent exhibitions dedicated purely to the past Queens and Kings of Denmark as well as the Royal Danish dinnerware collection 'Flora Danica' (yes this really does have it's own dedicated exhibition and has such a great story behind it) will educate and enthral Royalists and lovers of history (and porcelain)!
This is in addition to the ever changing exhibitions designed to excite and educate! Check out the Koldinghus website to find out what's on during your visit to Kolding!
As you'd imagine, given the hugely magnificent and beautiful setting of the castle, the restaurant here would follow suit! 
Madkælderen is quite simply the perfect choice if you're looking for somewhere incredibly special and memorable to dine after your wedding, or during your time in Kolding for your wedding. 
It is quite simply a stunning location serving delicious food. Its classy and sophisticated setting really sets the scene in any season for a meal to remember, so do check it out while making your plans for your wedding in Kolding.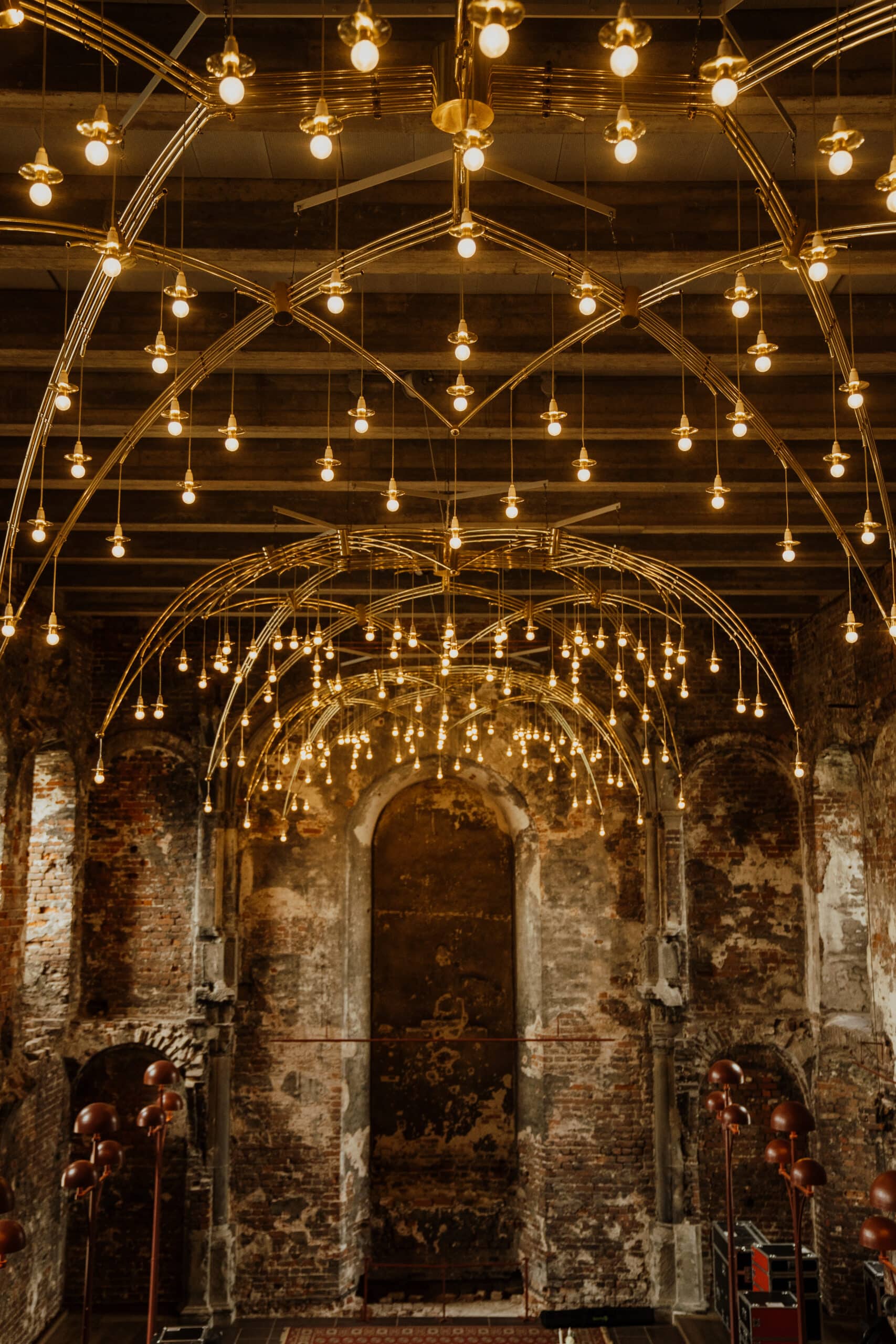 Getting Married at Koldinghus
It is possible to get married at Koldinghus too! There are actually several locations within this beautiful castle where a wedding can take place, depending on the requirements of your wedding. 
The Old Church Hall

– which has been beautifully restored after being damaged in both a war in the 1600s and then the huge fire in the 1800s. It is no longer considered a church and is used mainly for functions, exhibitions and weddings.  

Christian III Chapel

is ideal for smaller weddings and is the

oldest Protestant church room in the Nordic countries!

The Library Hall

is romantically decorated in the style of Louis XVI and is furnished with

materials from the Royal Library's old building in Copenhagen. 
Certainly a wedding in any of these rooms inside these magnificent grounds would be a wedding to remember for you and your guests. 
If you think a wedding here would be for you, we can put you in touch with the planner who coordinates the weddings and bookings at the castle! Just let us know when you contact us.
Whether you're getting married in Kolding, getting married IN the castle or just visiting during your time here in Denmark, Koldinghus is without a doubt a sensational place to be and is certainly one to add to your 'must see' list!
Its combined magnificence, grandeur, history and charm will wow you from the moment you first set eyes on it, and if you choose to dine there too then, trust us, you're in for a gastronomical experience to remember, as well!