Jagvir & Martino were married in Copenhagen's magnificent City Hall in a wedding that was stamped firmly with their unique style, was beautifully bright & colourful, and was FULL of love as they were surrounded by so many of their close family and friends. 
Read on to find out more about their beautiful day in Denmark and to see their wedding featured in Vogue!
A German / Indian Wedding in Denmark
As German & Indian nationals, Martino and Jagvir knew that getting married in their respective home countries was only going to be fraught with delays. Jagvir told us:
So, Jagvir, Martino and sixteen of their friends from ALL over the world came together to celebrate Jagvir & Martino's love for each other in Copenhagen – the epicentre of Danish love and welcoming open arms to people from every corner of the globe!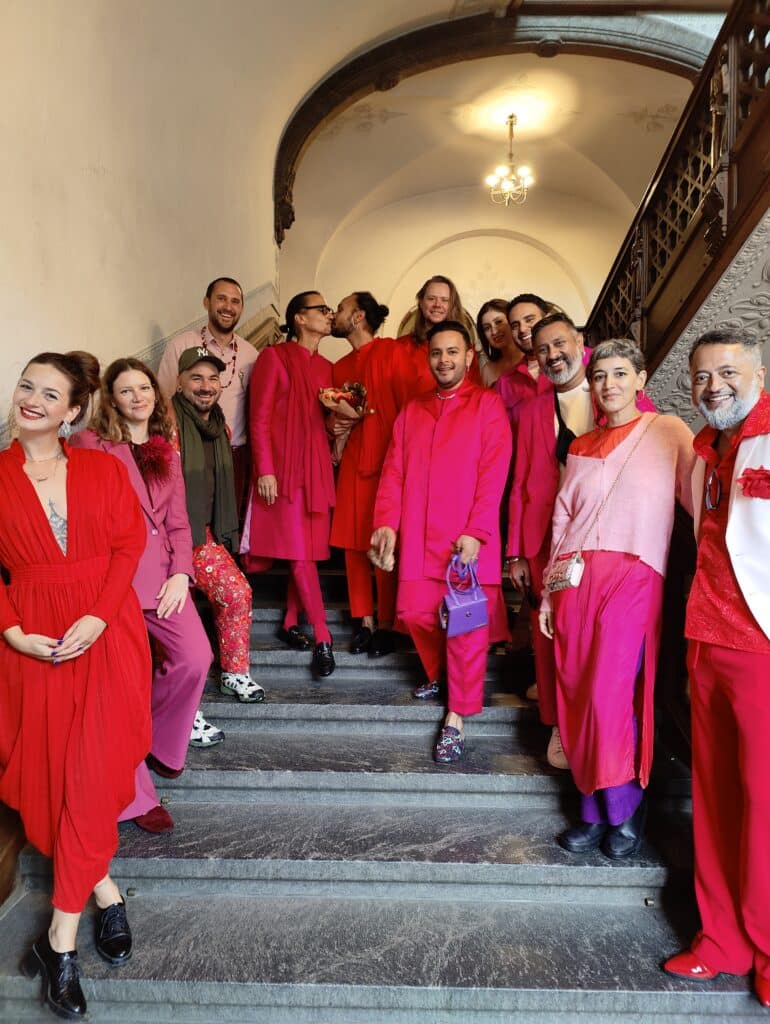 When Fashion Designers Get Married in Denmark
Martino and Jagvir both run very successful fashion and design stores in Goa, India: The Flame Store, Maison du Voyage and Elevation, so it was only natural that they would design their own wedding outfits! They designed outfits specifically for the wedding itself: 
They also designed outfits for their evening dinner; classic dinner jackets in vintage brocades in black and gold. Jagvir wore an Indian chintz inspired floral suit and Martino wore a Byzantine inspired jacquard suit.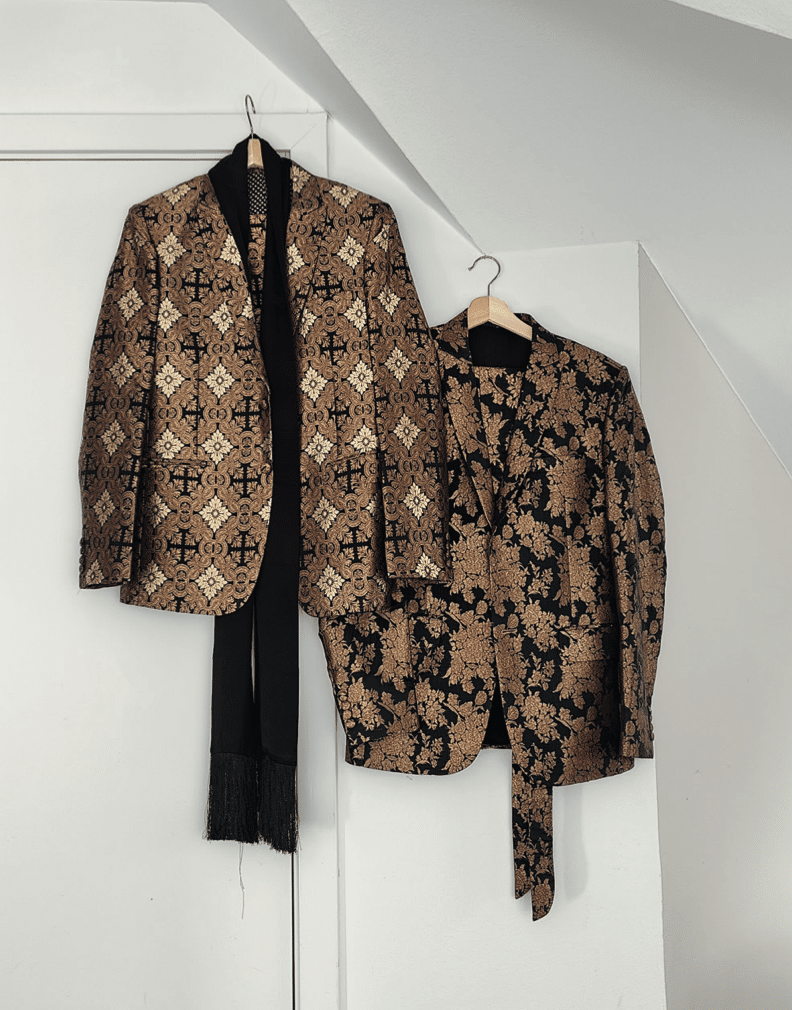 Martino & Jagvir insisted on a strong colour code for their friends in attendance, asking them to wear only pink or red for their wedding outfits too. 
This ensured, not only that all the guests matched the grooms' beautiful colours, that they were bright, colourful and full of joy; but importantly, the red and pink worn by them also signified prosperity and well being for the future. The perfect choice of colours for such a happy occasion.
On the day of the wedding, Jagvir and Martino gathered together with those closest to them for a beautiful and intimate ceremony in Copenhagen City Hall. 
Their wedding bands were made by a friend in Mumbai. Both eternity diamond bands with an inscription etched on the inside which reads 'So much life and together'. Jagvir goes on to explain:
After the ceremony and a few pictures taken together with all their guests at the city hall, Jagvir and Martino headed for lunch at Sans Souci in Frederiksberg.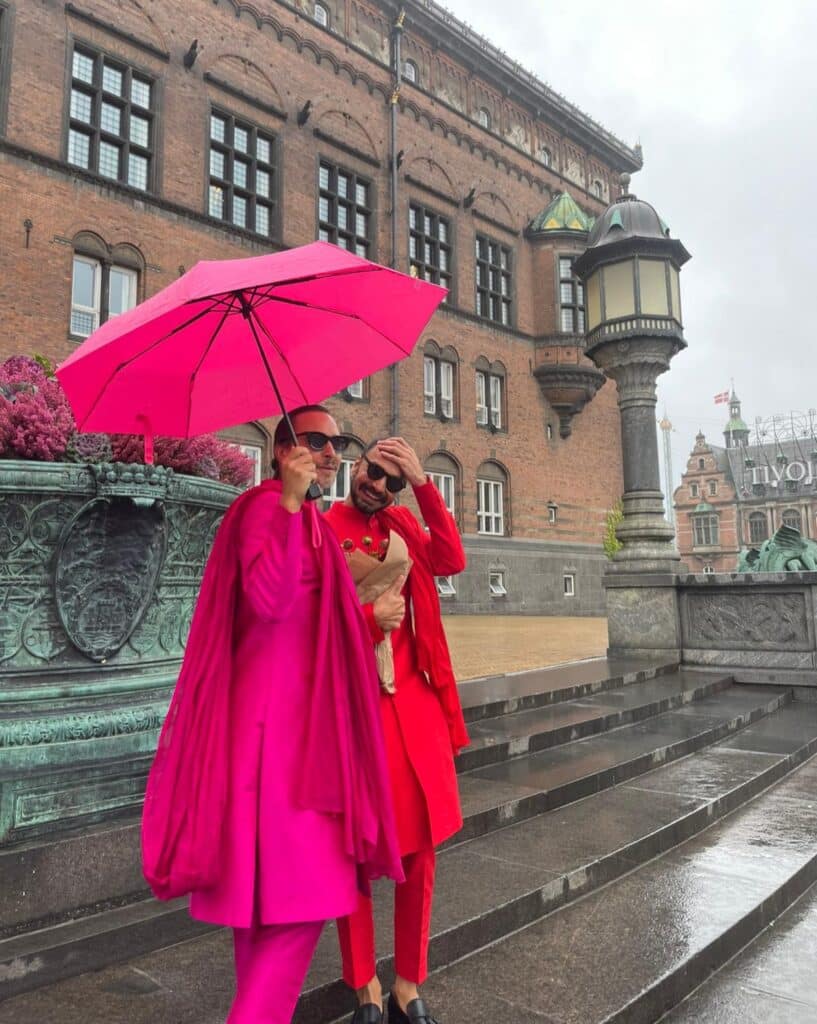 Their celebrations continued into the evening where they had an intimate private dinner with never ending champagne at the chic (but sadly since closed) Brasserie Prins.
The Wedding Day Featured in Vogue India
Jagvir and Martino told us how Vogue had always been incredibly supportive of not only their design stores in India, but of their personal journey. After a few of Jagvir and Martino's friends posted some of their wedding pictures online, Vogue India got in touch asking to feature their wedding in their magazine.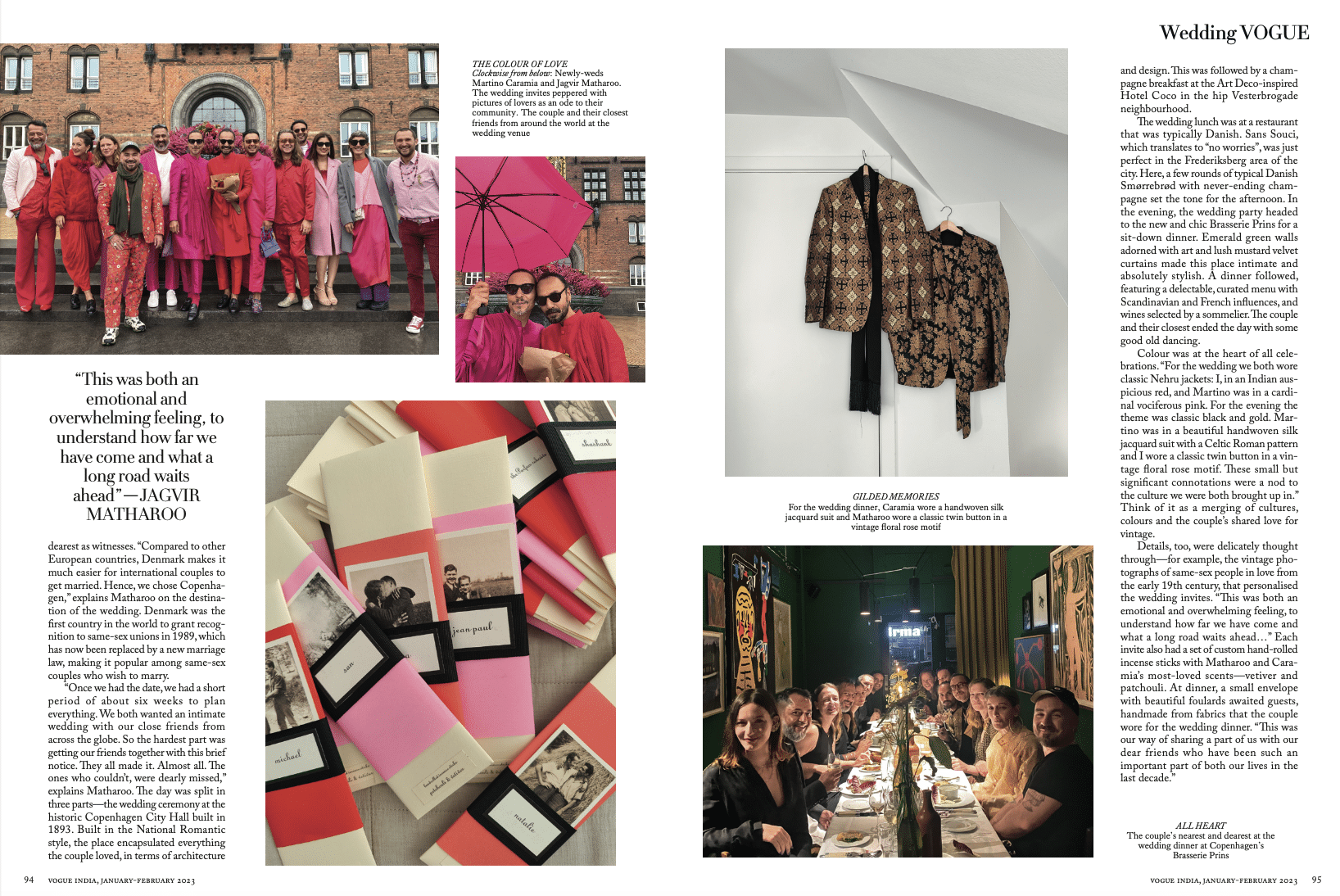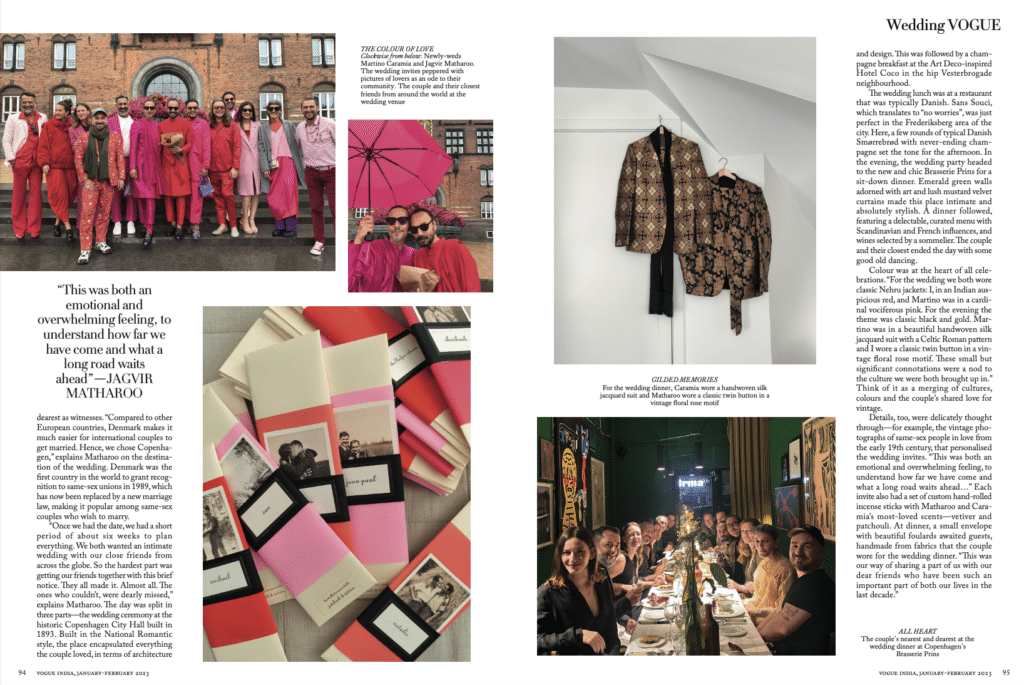 Life Since Getting Married in Denmark
The support and love any couple receives for their wedding day is always a very special and treasured feeling. To have every person you know directing their love and happiness right at you and FOR you is really an experience that will stay with you for the rest of your lives. 
Jagvir and Martino not only had the love and support of their close friends, they had the love and support from the industry from within which they work, which is incredibly special indeed.
Jagvir and Martino told us "We are grateful and overwhelmed with the response we got from the industry, and friends once the [Vogue] article was published." 
As Jagvir and Martino have been together already for 11 years before they got married, they admit that their day-to-day lives have not changed much.
However, the wonderful experience of getting married in Copenhagen, the love they felt for each other, as well as from their closest loved ones and from the design & fashion industry too, has firmly cemented the foundation of their already deep relationship.
Congratulations to you both Martino and Jagvir, we are truly so happy for you both and wish you both a wonderfully happy, prosperous and incredibly bright future together. 
To read more about Denmark and weddings for LGBTQ+ couples in Denmark, please take a look at this article: Pride, Progress & Weddings written by our friend and collaborating partner; Martina Lanotte.