Carola and Messan were so happy to share their experiences of their time in Denmark for their wedding elopement with us and in turn are delighted to be able to share their happy day with you!
Why Did Carola and Messan Choose Denmark as their Wedding Destination?
Carola and Messan had friends that had been through the process of getting married in both Germany and Togo, and so were able to see what difficulties their friends experienced during this time.
It took over 2 years to get married in Germany for one set of friends and for the other, getting their Togolese marriage legalised and registered with the German authorities took over a year! 
This was not something Carola and Messan wanted to go through, and why should they have to – they were in love and wanted to be married so they could start planning the rest of their lives together as husband and wife! 
Luckily for them they had spoken to some other friends who had got married in Denmark and had such positive experiences to share! So, it was a no brainer for them! Denmark was their first choice for their wedding. 
So, of all the Danish town halls, why choose Ærø?
In a beautiful and poignant addition to their decision to get married in Denmark, Carola's parents were married in Fehmarn, a German island in the Baltic Sea, not too far from Ærø at all. When they checked all the different options on location within Denmark, it was clear to them it had to be Ærø! 
Ærø island has a wild beauty mixed with quaint charm. Yes, it takes a little more effort to get to, but is totally worth that effort, and is such a wonderful choice for a Danish wedding elopement.
Carola and Messan arrived 2 days prior to their wedding date, which was the perfect amount of time for them to settle in. Carola told us about their arrival onto the island:
Just Beautiful.
They had an action packed day, the day before their wedding, with Carola having a trial for her hair and make up, heading over to the bakery to collect their wedding cake, followed by collecting their flowers. 
The bakery, Finn's Bageri, is located at the exact opposite end of the island to the florist, Ærø Blomster, where they were collecting their flowers from, so they really managed to soak up all of the island during their pre-wedding preparations! 
Carola added "The preparations allowed us to really get to know the island from A to Z, we loved driving around so much, you see the sea, every corner and house is so picturesque and we so loved Ærø flowers in front of almost every family home, hollyhocks I think?"
Everything was falling into place beautifully for their big day.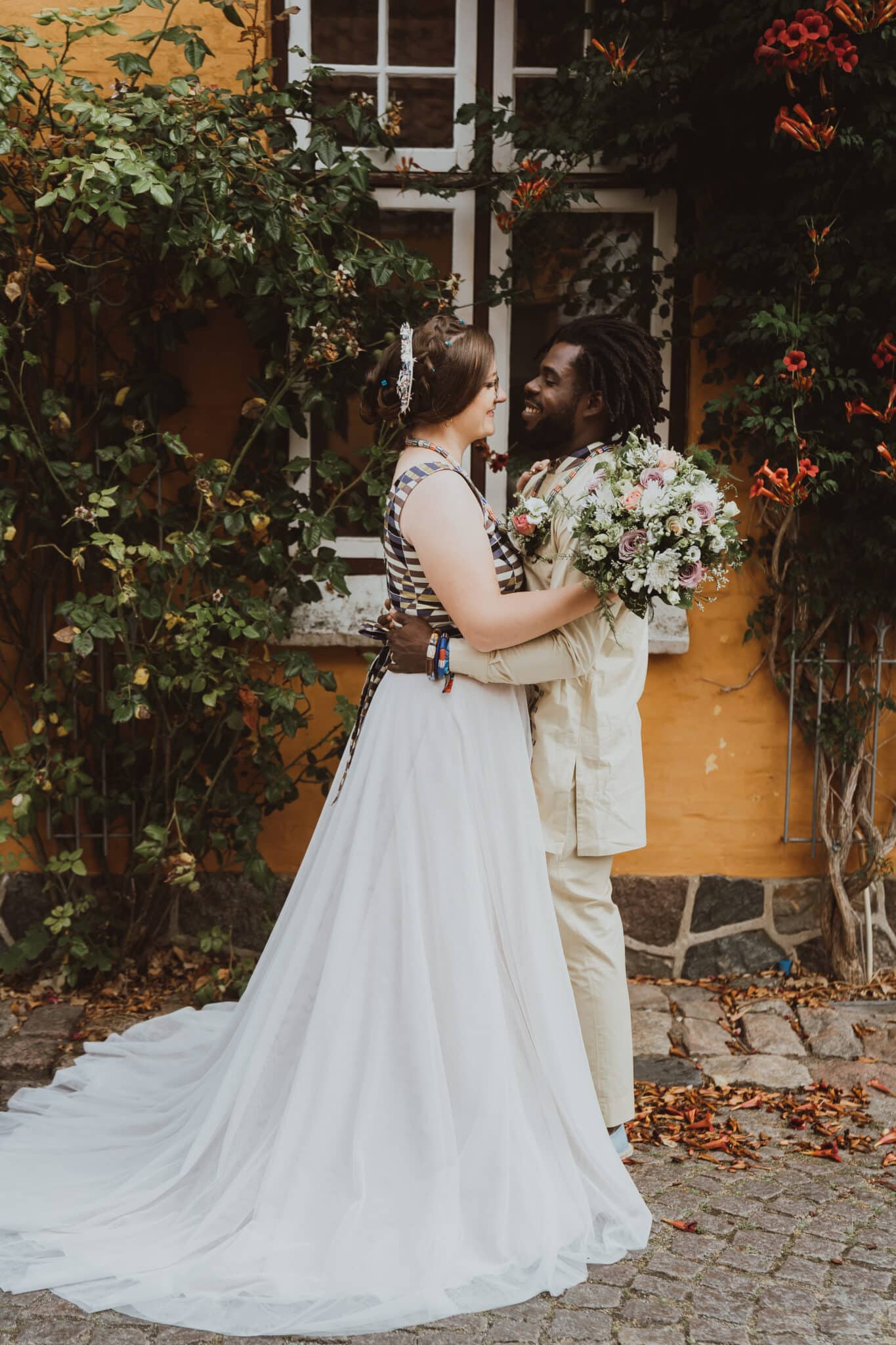 A perfect wedding in the town hall's garden!
The staff at Ærø town hall are incredibly lovely; kind, thoughtful and dedicated to the couples that go to Ærø for their wedding. 
When Carola and Messan asked if they could take a sneak peek at the wedding room the town hall staff were happy to oblige. Knowing they would have 22 guests in attendance, Carola and Messan were afraid that not everyone would comfortably fit in the wedding room. 
But the staff at the town hall had a solution! Why not have the wedding in the garden at the town hall, under a birch tree? 
Carola and Messan never imagined they could have their wedding outdoors under a tree, the leaves blowing in the gentle breeze above their heads as they take their vows. This was just so romantic and so perfect, and they agreed immediately and wholeheartedly. 
The night before, the bride and groom-to-be spent the night apart; Carola with her bridesmaids and Messan with his groomsmen. 
Hanna Bursuk, the couple's wedding photographer, arranged that Carola and Messan meet, and see each other for the first time on their wedding day, in the market square – which was such a sweet surprise for them and a very emotional moment. 
Then onto the town hall! Their family and friends all gathered in front of the town hall, giving the excited and happy couple the most wonderful welcome. Everyone made their way to the town hall's garden for the wedding.
As is the case with Danish town hall weddings, the ceremony was quite short but Carola and Messan prepared their own vows, which ensured that extra special personal touch. They had such a wonderful time together celebrating their love and making incredible memories surrounded by their loved ones.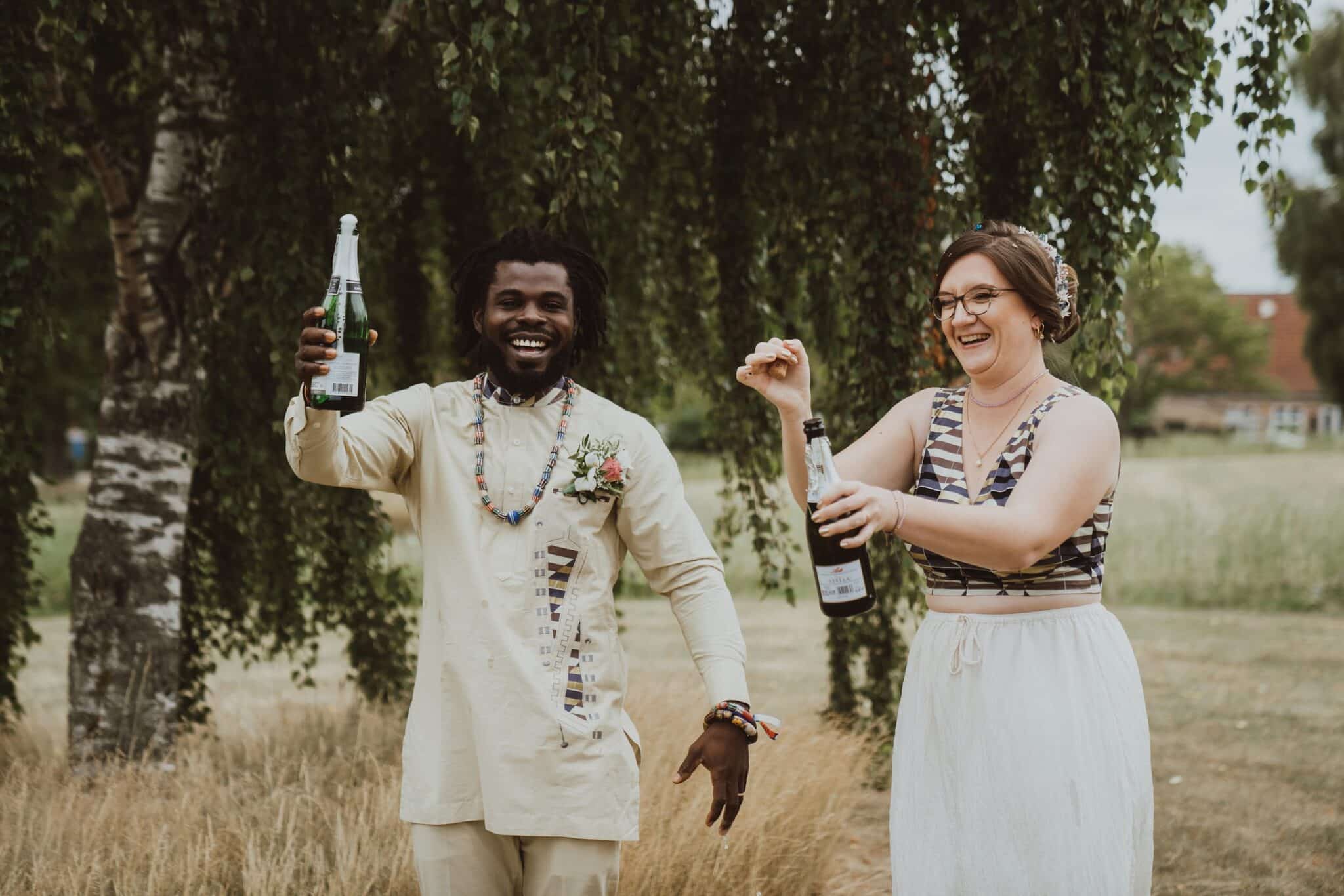 After the wedding the newlyweds and all their guests had planned to head to the beach for a post ceremony picnic but sadly, Denmark's weather had other ideas; the sky turned dark and the rain came, meaning the wedding party had to adapt their plans. 
They moved their picnic to Carola's sister's Airbnb but they were not sad. In Germany it is said that rain brings blessings and fortuitously, in Togo the same is said! So the rain didn't dampen their spirits in the slightest. 
Their friends and family prepared an amazing picnic, made even more impressive by their wedding cake from Finn's bakery. It was a traditional Danish wedding cake with hearts and flowers decorating the top. 
Messan is a musician (and very romantic) and he brought his guitar with him to Ærø. He serenaded his beautiful new bride with Bob Marley's song 'Turn your light down', and one of his own songs in french which translates into "Where the joy is", inspired by their home town in Benin.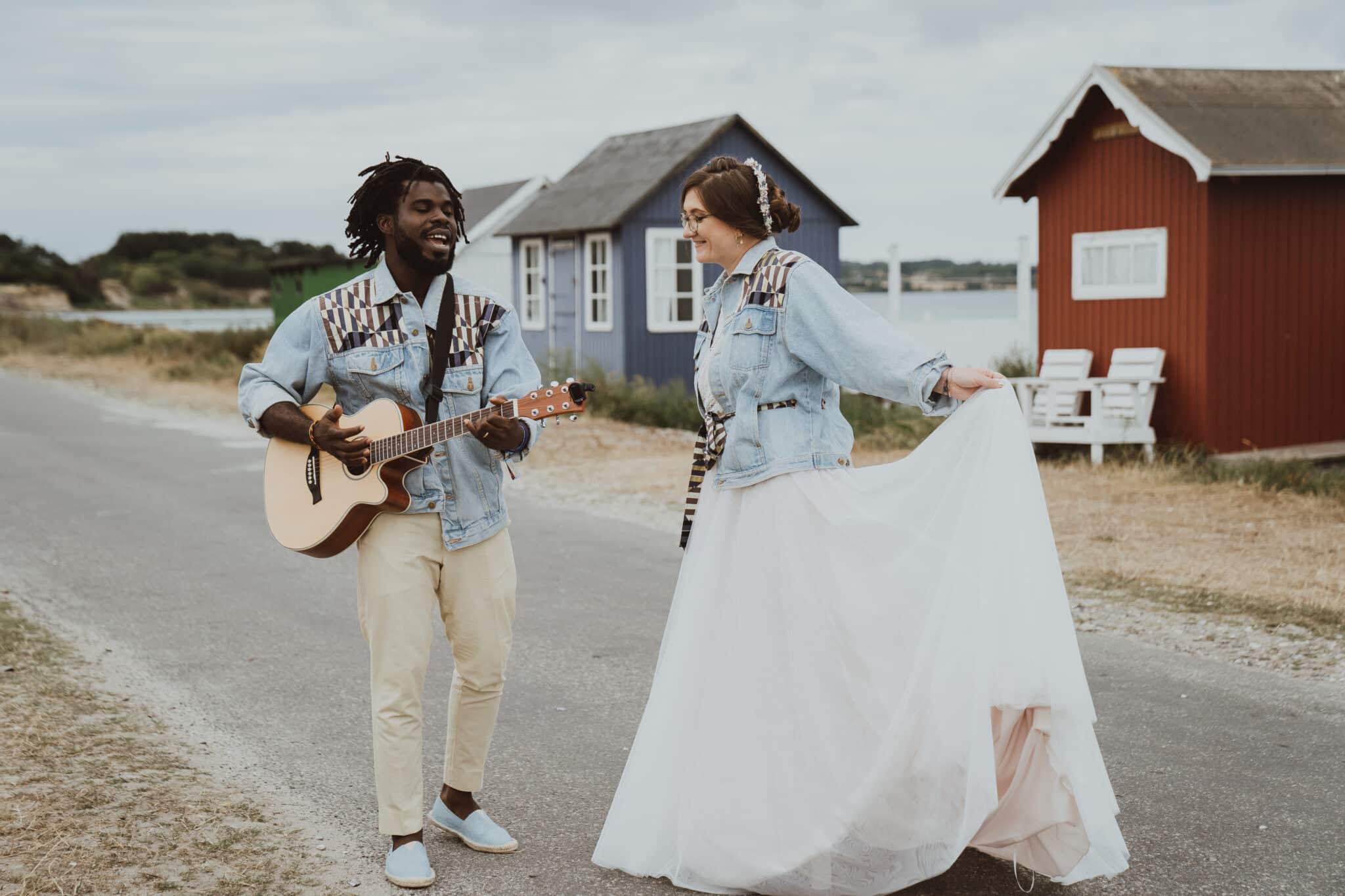 When the sun came back out, they danced in their garden, situated right in front of a corn field. It was perfect.
A Little Bit of Germany Brought to the Danish Wedding Day
That evening they all made their way to Restaurant Mumm, a gorgeous and intimate restaurant in the heart of Ærøskøbing. 
Carola's family organised some fun and games for the newlyweds, which included a German wedding tradition affectionately known as the 'Cut Out Heart Race'. This lovely tradition involves the newlyweds racing to cut a large heart shape out of a bedsheet with a very small pair of scissors (some say the smaller the better), and once the cutting of the heart has been completed, the groom will carry his new bride through the heart shape. 
This is a source of huge fun at German weddings and often sees the guests taking sides in a little healthy competition, cheering on the couple. It is said that the winner (whoever finishes cutting their side of the heart out first) will be the 'boss' in the relationship!! 😉
For Carola and her family,  bringing a little bit of Germany with them to their Danish wedding day added such a special and memorable moment to their day.
A Little Bit of Africa Brought to the Danish Wedding Day
The same was true for Messan. A proud Togolese citizen, bringing a touch of Togo to the day was incredibly important to both Messan and Carola. 
When a couple gets married in Togo, it is tradition they will choose an African print for their wedding. The couple will buy many metres of their chosen print and then they and their guests have this print woven and tailored into their wedding outfits. It is such a beautiful way of bringing everyone together, creating a sense of unity, support, and love on the couple's very important day. 
Messan and Carola chose a rare print for their wedding; a combination of violet, rose, white and gold. They had the print integrated into denim jackets they wanted to wear while in Denmark, as well as incorporating it into Carola's dress, both the bridesmaids dresses and groomsmen's outfits.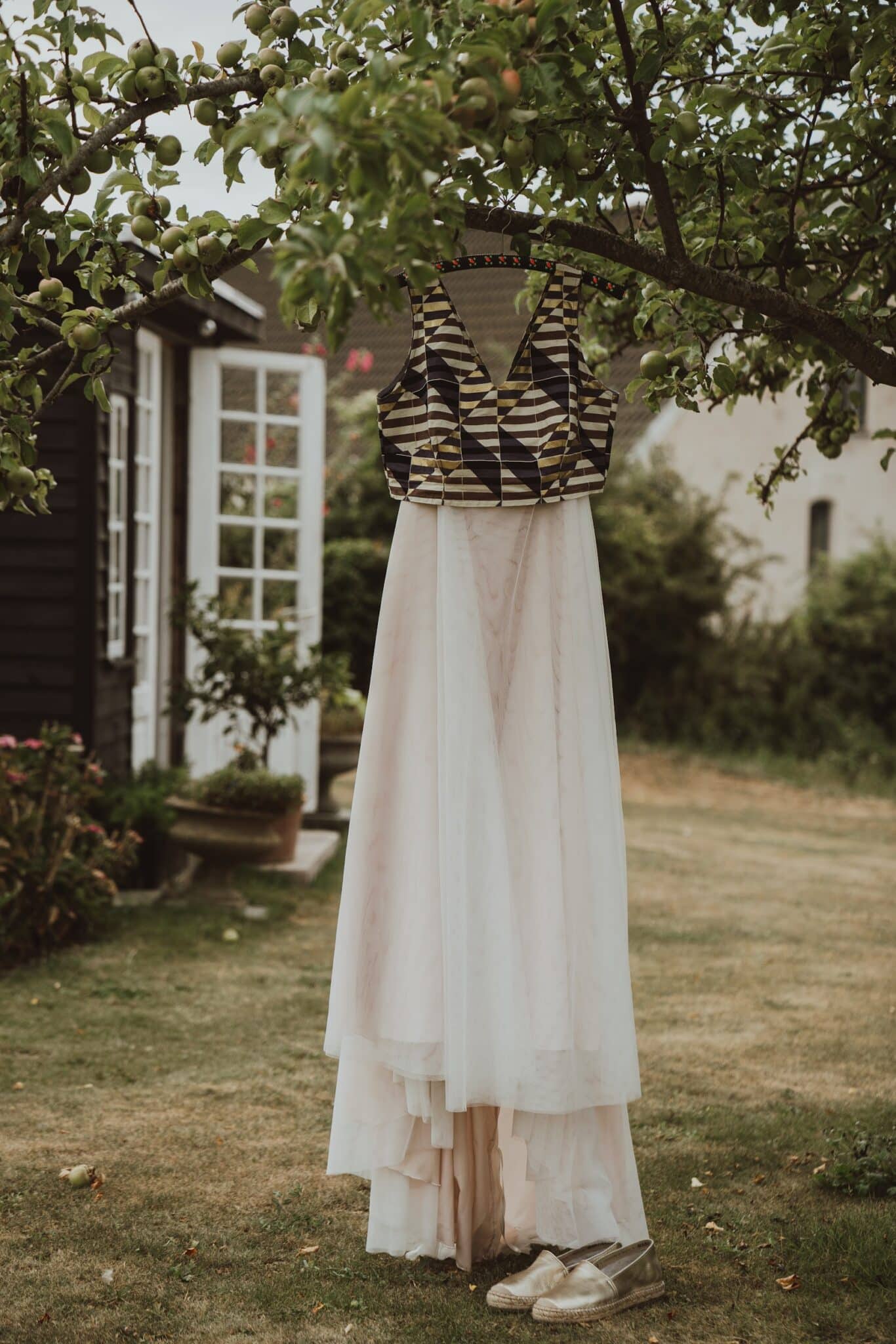 Messan and Carola had a ceremony in Togo after their Danish wedding and they used this print for their Togolese wedding outfits too.
Memories Made to Last a Lifetime
It goes without saying that Carola and Messan had the most wonderful time in Denmark and on Ærø island. After their time on the island they travelled up to Copenhagen to spend a little time together there, exploring, eating, sightseeing, celebrating and just generally enjoying each other and soaking up their time together as newlyweds. 
They loved Denmark so much they wanted to move here! It's clear that Denmark, but especially beautiful Ærø island, has left a happy and permanent imprint on both of their hearts, which makes us all here at GMiD incredibly happy. 
Congratulations to you both, Carola and Messan on your very happy day. We wish you a lifetime of happiness together and we hope to see you in Denmark again one day soon!