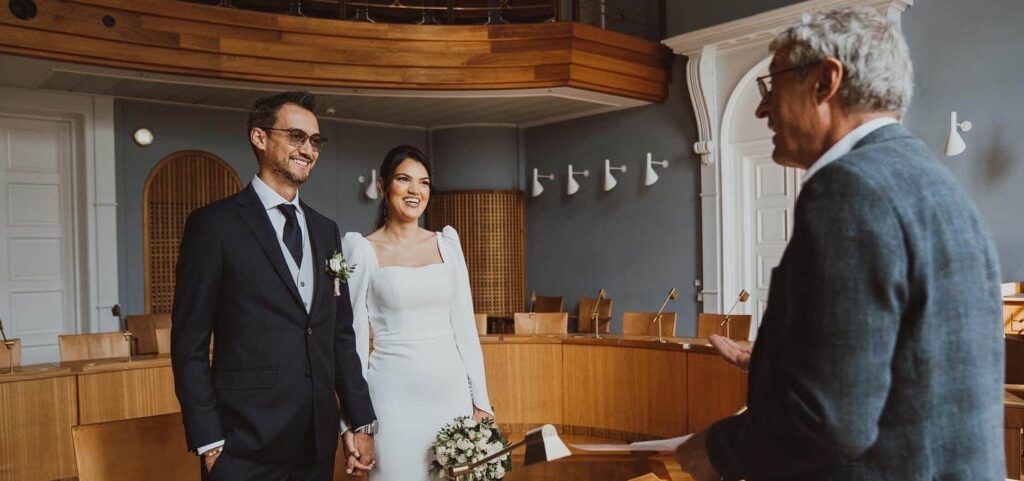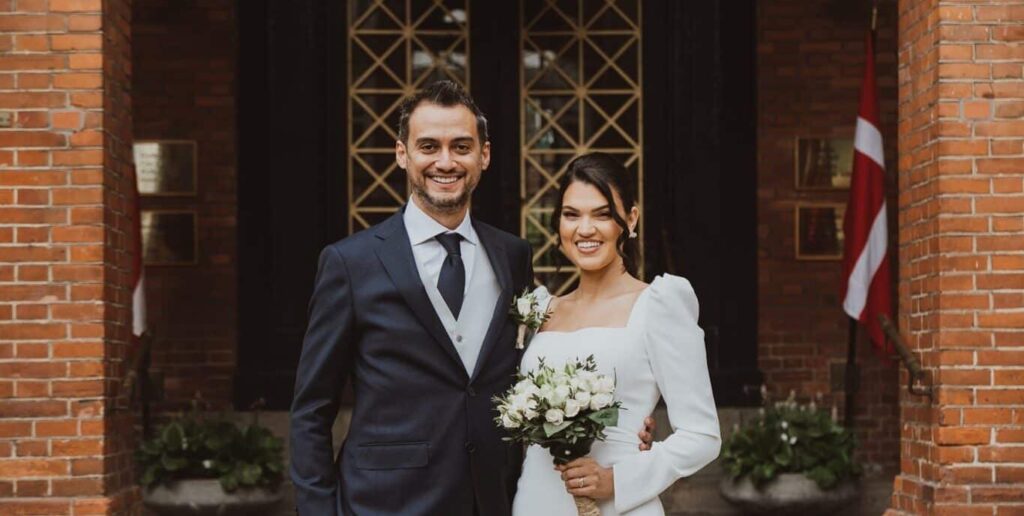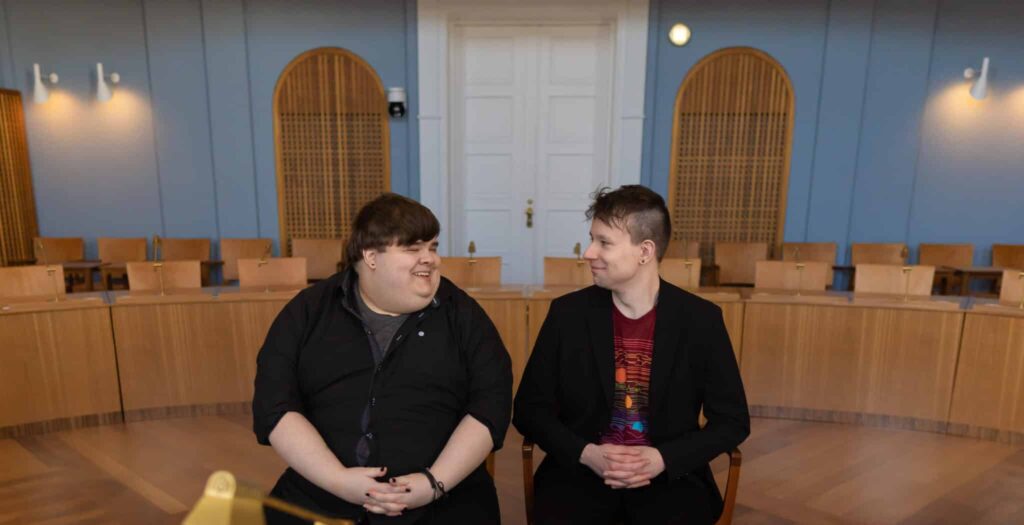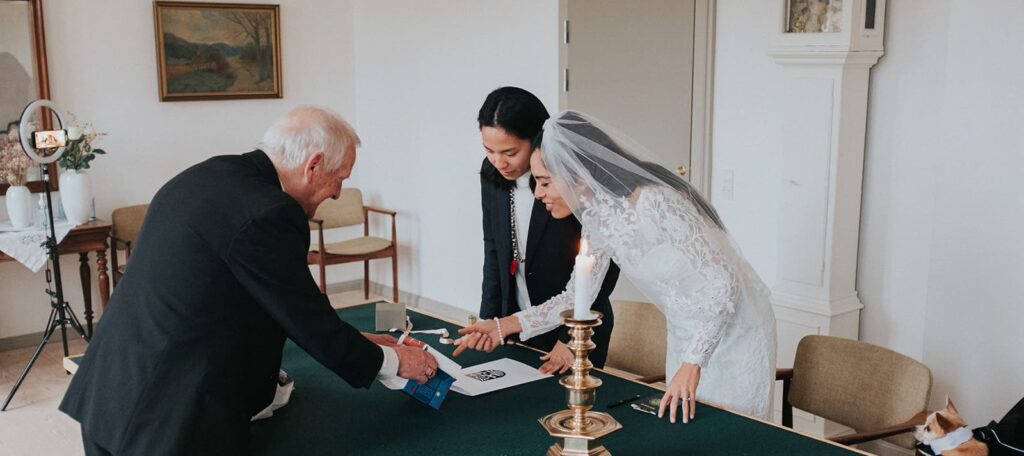 Why Get Married in Kolding?
The city of Kolding is only just over 1 hours drive from Hamburg airport. It is a city that is extremely conveniently situated within Denmark and as such is especially popular with couples travelling up from Germany.
There are actually 2 very popular locations to get married here. There is the town hall which is located in the centre of Kolding town. 
There is also the option of getting married in a museum in Christiansfeld. This museum works closely with the town hall marriage office and a wedding held here is done so at no extra cost. 
Having both of these wonderful options available makes Kolding a great choice for couples!
It's easy to get to Kolding from big airports in Denmark and Germany. The best choices to fly to are: Copenhagen airport, Billund airport and Hamburg airport.
From Copenhagen Airport to Kolding
If you drive from Copenhagen airport, it will take you around 2h 50 mins to get to the centre of Kolding. 
If you don't want to drive, the journey on public transport is quite short and easy as well. Depending on the route, it should take you around 2h 20 mins to get to Kolding on the train. You can have a look at the routes and schedules here.
From Billund Airport to Kolding
Billund is the closest airport to Kolding. Driving a car it takes only around 45mins to get to the centre of Kolding.
Billund airport is well connected with Kolding and if you decide to use public transport, the journey will take you between 1h 5mins and 1h 30mins. You can check different routes and schedules here.
From Hamburg Airport (Germany) to Kolding
The German airport is only around 2h 25 mins drive away. 
If you prefer to use public transport, the journey from Hamburg airport to Kolding's centre will take you approximately 4 hours. To check the route have a look here.
What Can We do While We are in the City?
Apart from enjoying your (hopefully wonderful!) wedding ceremony, there is plenty to do in Kolding. Here are some things we recommend visiting:
This impressive 13th century castle by the lake is a must see when in Kolding.
Koldinghus which was founded in 1268 by King Christoffer suffered a seriously damaging fire in 1808 which made it a popular destination for various creatives (including H.C. Andersen) who were looking for inspiration in the area and found the ruins and its surroundings very picturesque.
The castle remained a ruin for years, before it was finally restored in 1991 and today it offers very interesting guided tours and other activities.
Get the real feel of the city on the streets of downtown Kolding. 
Enjoy a stroll on the cobbled streets with beautiful, colourful buildings while surrounded by the locals going about their daily errands. 
Enjoy a delicious snack in one of the little cafes and make sure to visit local fashion and homeware shops, you can find some real treasures there!
This museum of modern art and design is one of the best-known museums in Denmark!
Trapholt has an impressive collection of Danish furniture, paintings and sculptures from the beginning of the 20th century to the present. Its collection of designer chairs with over 500 pieces is the largest chair collection in Denmark.
It's also home to a collection of Richard Mortensen's paintings and the famous Kube-flex summerhouse by the architect Arne Jacobsen. Most of the galleries also display very diverse temporary exhibitions.
Not only the contents of the museum are spectacular, but also its surroundings. Located just by the Kolding Fjord, the views from the museum are truly beautiful! If the weather is nice, you can enjoy the museum's extensive garden filled with sculptures.
4. Kolding's Famous Pizzerias📍
Going to Kolding and not visiting a pizzeria is like going to Paris and not seeing the Eiffel Tower. 😉
It's not hard to realise why the city's nickname is ''Slicetown'', there is a pizzeria on almost every corner. 
The best thing though, is that they are all quite diverse and have their own take on pizza. Whether you prefer something more traditional, innovative, relaxed or posh, you will find a perfect place for your taste. 
If in doubt, ask the locals, they will help you find the pizzeria that suits your needs perfectly.
A lovely forest in the city. 
After entering Marielundssøen you will forget that you're in a city. The forest with its spectacular trees and cute paths is a perfect place to relax among nature. In the middle of the forest there is the idyllic Marielund lake. 
You can have a romantic stroll or rent a bicycle and cycle around.
What Can We Do in the Greater Area?
If you're in Kolding for a few days, there are some great places nearby:
A fascinating Viking town.
This little town is visited by 150.000 tourists every year and there is a reason for it. Jelling is home to some of Denmark's most impressive historical treasures. 
The Jelling Stones are two enormous carved stones that come from the 10th century. The older stone was erected by King Gorm in memory of his wife and the larger one was erected by Harald Bluetooth (King Gorm's son), in memory of his parents, to commemorate his conquest of Denmark and Norway and celebrate converting Danes to Christianity. The stones are now on the UNESCO Heritage list. 
Another UNESCO Heritage listed landmark is the Jelling Church from the 1100. It was constructed in place of a wooden church from 900 and it's not only beautiful but also extremely interesting. 
In the very modern Kongernes Jelling Experience Centre you will be taken back in time to the world of the Vikings and explore the exciting history of Jelling. 
Apart from the history and the Viking adventure, Jelling is full of beautiful nature and has some excellent restaurants! 
A truly beautiful island on the Wadden Sea. 
You will be amazed by the views, huge white dunes and wide beach, perfectly blue water and plenty of green areas.
Although in summer you can enjoy a swim in the sea and sunbathing, the island is an incredible place to visit all year round!
Rømø is on the other side of the Jutland island, but the drive from Kolding is only around 1h 15mins and the island is definitely worth visiting!
The oldest town in Denmark! 
This charming little town has a magical atmosphere and makes you feel the history while enjoying modern activities.
People from all over the world are fascinated by Ribe for a reason. With its history of over 1300 years, Ribe is now a truly vibrant place. The town combines everything from impressive, old architecture, charming streets and lovely canals, to delicious restaurants, modern shops and exciting events.
A fun treetop adventure park in the beautiful ''Hylkedal'' valley.
If you're looking for an active and exciting experience, the Funky Monkey Park is definitely a place for you! 
There are 6 different courses with different challenges and heights, where everyone will find something suitable for them. The park is also famous for its huge, over 350 meters long zip-line.
Funky Monkey Park offers a thrilling and entertaining experience in a truly beautiful scenery. What a better place for an unforgettable adventure!
Do you wish to get married in Kolding?
The first mentions of this port town on the eastern coast of southern Denmark are from the 10th century, although Kolding officially received town rights in 1321. 
The town started growing around the royal castle called Koldinghus which was built in 1248 in order to defend the border.
Kolding is famous as the place where the Danes defeated the Swedes in 1644 in the Battle of Kolding. In 1849, the town was a witness of another victory of the Danes, this time over the Schleswig-Holsteiners.
Today, one of the things Kolding is famous for is pizza! It might sound quite surprising, but the city has a huge amount of pizzerias that serve delicious pizza and Kolding's nickname is 'Slicetown'. 🙂